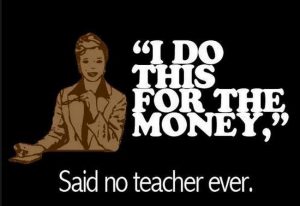 Why do I teach?  There are so many reasons to give that I'm sure many before me have given.  I can tell you in order to be a teacher you must love something about it or you would do something different.  The reason is definitely not money, at least not in North Carolina.  So what is the reason?
For me I saw a problem in education, boring teachers.  Teachers like Ferris Bueller's who sat up and talked for 90 minutes about who knows what because everyone was so bored they were sleeping or day dreaming. Physical education teachers who did not teach anything physical but how to roll a ball out.  I always wondered what was so great in that tiny town paper that my P.E. teacher use to read everyday.  Somewhere along the way the inspiration to change lives got lost. Well WAKE UP!
Students learn when they are interested.  This not a new concept this has always been the case.  So I began teaching to make a difference in the students learning and get them excited about life.  But I also began teaching to help encourage and model teaching in hopes that it would become infectious to other teachers around me.
Students will ask all the time, "why teach PE, you're so smart you should have been a nurse or doctor?"  or my favorite "you teach science better that my science teacher". I always laugh and tell kids I teach the best subject in school because it is all about your health.  No other class in school is more self-centered than Healthful Living.  Think about it next time you have a staff meeting about discipline, PBIS, or collaboration.  Those topics are just a few of the many skills taught in Health.  People would be surprised the importance of the Health and Physical Education.  How many people actually know what is being taught in the curriculum?
Here is a refresher:
Alcohol, Tobacco and other drugs (the list is extremely long and growing)
Interpersonal Relationships ex. family, social, abuse, neglect, rape, bullying, cyber-bullying.
Communication and non-communication skills
Mental health- stress, defense mechanisms, and coping with loss but also mental health disorders, ex. PTSD, autism, anxiety, depression, suicide.
Emotional health ex. dealing with emotions positively
Nutrition and food safety
Physical Activity
Reproduction and growth
Personal Hygiene ex. hair care, teeth, nails, and skin
Consumer Health ex. tattoo and piercing safety, advertising techniques, product analysis
First Aid and Safety ex. natural disaster, weather emergencies, first aid/CPR, ATV Safety, Gun safety
Seriously, who knew?  I bet you didn't.  Just to make things even better we split the time in half to cover all these topics to get the kids up and moving for Physical education too.  I want Health to be a separate course that is a requirement every year.  Add it to the common core or whatever core class list is in place.  If you look at all the problems in the U.S., Heart Disease, Obesity, Violence, just to name a few, these are all topics, covered briefly, in health due to the state requirements.  Did you know that most elementary students do not even get a formal Health class?  Students are not learning these skills until middle school. I became a Health and Physical Education teacher to change the stigma and to make our kids grow up to be better people.  I am worried about the future and this is my fight to change it.