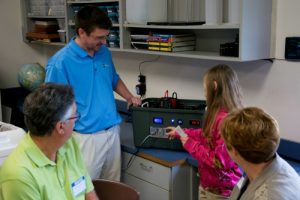 ANSONVILLE – At some point as a student, we all have asked, "How will I use this?"
As an elementary school science teacher, I am always searching for ways to make scientific concepts relevant and exciting. I believe dynamic demonstrations, lab activities, and project-based learning experiences excite students about science, show them learning can be fun, and teaches them the problem-solving, analytical, design, and communication skills that will help prepare them for success academically and in their future careers.
Near the end of the 2015-2016 school year, I was given the opportunity to apply for a fellowship through the Kenan Fellows Program for Teacher Leadership at N.C. State University.
One aspect of the Kenan Fellows Program that distinguishes it from other professional development opportunities is its emphasis on real world applications and hands on experiences that educators can take back to their classroom.
The Kenan Fellows Program partners with a variety of industries and research institutions to provide internship opportunities for their teachers to see firsthand how the concepts they are teaching are applied in a variety of STEM-based career fields. For my internship, I spent four-weeks in the summer of 2016 with Pee Dee Electric to learn more about electricity, renewable energy resources, and the cooperative business model.
During my internship with Pee Dee Electric, I was able to see the many different jobs and responsibilities that go into operating an electrical utility. From seeing how the engineering department plans new construction and monitors existing lines and service, to learning about all the different services that Pee Dee Electric provides for their members, to working with line crews to install overhead and underground power lines, I have seen how all parts of the company work together to provide reliable electrical service.
In reflecting on my four weeks with Pee Dee Electric, I am excited about all that I have been able to learn and experience that I have brought back to my classroom. Now as we study energy and electricity in our fourth-grade science class, I am able to share my own experiences from my internship.
In February, our fourth grade class visited Pee Dee Electric in Wadesboro to learn about electrical energy and how solar energy can be used as a renewable energy resource. Students toured Pee Dee Electric's Community Solar Farm, watched equipment demonstrations by linemen, and learned about electric cooperatives and how they operate.
After learning about solar energy and touring Pee Dee Electric's solar farm, our class built a solar generator that we are using to power an incubator to hatch chicken eggs. Students are able to learn more about electricity and renewable energy resources while observing the life cycle of chickens.
This project has been successful because it has provided our students hands-on experiences working with industry professionals to create a working product. The help from Pee Dee Electric, as well as a Bright Ideas grant that we received for funding helped to make this project possible. The students are excited for the opportunity for hands-on learning, and I am excited that I am getting the chance to keep them engaged in learning about science.
Justin Jones, a 2016-17 Kenan Fellow, teaches science at Ansonville Elementary School in Anson County Schools. His fellowship, Pee Dee Electric: Providing Energy Through Synergy, is sponsored by Pee Dee Electric and North Carolina's Electric Cooperatives.