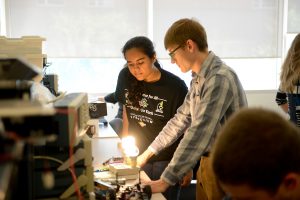 The Kenan Fellows Program for Teacher Leadership plans to announce its 2018-19 cohort on National Teacher Day, May 8, 2018.
We are grateful for the tremendous response we have received. Thank you to everyone who applied and or helped to promote our fellowships. A special thank you to our many corporate, foundation and individual partners who helped make these fellowships available to teachers across North Carolina.
All completed applications will be reviewed by a selection committee of Kenan Fellows staff and alumni, and mentors. Final candidates will be invited for an in-person interview to be conducted in their local area.
Interviews are typically scheduled in March. Selections are made in late April. All applicants are notified of their status by mail in May.