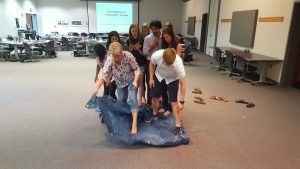 Excited about the Kenan Experience.  Amazing first day of getting to know the other fellows and what will be happening this school year!
Retroactively completing this post…
What do I hope to gain from my Kenan Experience?
I am looking forward to getting real world/life experience in something very different from my classroom.  I hope to be able to translate what I see and do to the elementary level.
After having spent the week with the other fellows and steering committee, I can add another thing I am looking forward to.  I am really looking forward to growing my professional relationships across the district and across the state.  Being able to grow as a teacher and being part of something that helps other teachers grow excites me.  Bring on Kenan 2017-2018!