Since it's difficult to describe the highlight of my week at the KFP Summer Institute, I'll share many:
being introduced to NCCAT
branding myself as an educator and then as a CMS TLC
PBL PD and diving into the details of quality PBLs
"Beautiful Data" and gaining further understanding of the power of infographics and how to effectively design and use them in the classroom
gaining perspective on myself and my colleagues through the Myers Briggs Indicator
networking with extremely talented NC teachers
thinking of STEM as Strategies That Engage Minds
viewing technology as advances and not "digital devices"
I am extremely excited to create and share PBLs with my teams at school. Breaking down a PBL into 4 quadrants by thinking about:
the standard
skills necessary to master the standard
careers potentially involved with the standard
a question, which promotes critical thinking, to address the standard, has been a huge aha for me.
This structure makes sense to me, and I am eager to begin implementing them in our classrooms.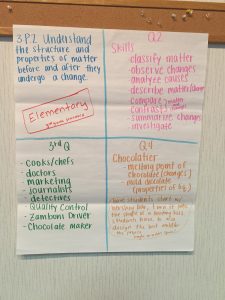 After a week in Cullowhee I left inspired and challenged. The last five days have made me think about myself as a teacher and teacher leader. I enjoyed being able to learn and share ideas and thoughts with fellow alumni, new fellows, my TLC, and a colleague from my school. The strong network of Kenan Fellows and the resources and expertise available gives me confidence for my upcoming project at Carowinds, and I am anxious to dig in! Carrie Hornton said, "Fail forward!" I keep thinking about how the depth of this quote. What does it mean to you?
Comments are closed.