From visiting the campground to playing "Plants and Zombies" to riding "Fury" to touring maintenance to shadowing the operations manager STEM is everywhere at Carowinds. I am sure like most, when I originally heard STEM I saw tunnel vision perhaps and thought Science-Technology-Engineering-Math, but as I learn about the NC STEM Attribution Implementation Rubrics, I note part of the curriculum entails PBL (project-based learning), which encompasses key success skills:
Critical thinking/problem solving

Collaboration

Self-management
Over the last week and a half I have observed Carowinds as not only an outdoor classroom but their sales, marketing, public relations, aquatics, maintenance, and operations personnel demonstrating the above key success skills. The Cedar Fair owned amusement park has been referred to as a "little city" by more than one of their associates, and I've been afforded the opportunity to see how so many of the departments work together to provide a high standard experience for their guests. Just today I sat in on a Winterfest planning meeting, and those in attendance included sales, marketing, and operations. Even though there were only five people present, they understand their organization and the event and are aware who else they need to help kick-off this new event-security, culinary, etc.
While I have seen first hand a lot of the soft skills being executed, I have also been able to learn how the content part of STEM is applied. Yesterday, while walking with the mechanical maintenance manager, we toured Fury, and he gave me background of their main attraction. There is magnetic friction on that ride because friction on its own is not enough to slow down the ride at the end. He informed me there is sand in parts of the coaster to help support the track, and while it could also be used to help with noise ordinances, SC/NC does not have to worry about that piece. SCIENCE
Out in the park yesterday we stopped at the WindSeeker Swing Ride. The operations manager took me inside the booth where the ride operators operate the ride. It is all on a computer system that allows them to switch the ride on and off, the timer is programmed for how long the ride will last, there is an emergency button to turn the ride off, an off button for non-emergencies, etc. TECHNOLOGY
When talking to the area manager for events and ticketing and then maintenance, they informed me on NDT-Non-Destructive Testing and rejection criteria. They take all the rides and parts through this during the off-season to ensure safety. This took me to the design process-generate, focus, ideate, act-we use at our school and the Personalized Learning schools utilize. ENGINEERING
As I talked with the ops manager he was talking to me about Bigbelly trash cans, which are a 'smart waste & recycling solutions for public spaces.' They are solar powered, GPS functionality, 5x compact garbage cans that can produce the efficiency of the park services. He is working on a cost analysis to determine if this is something the park can justify at this time. MATH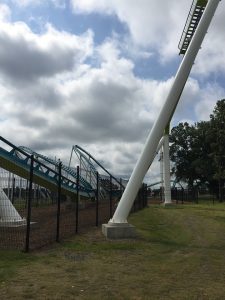 Carowinds promotes their education, engineering, marketing, and leadership days, and last week during our CMS Teaching Fellow meeting we discussed how marketing fits into STEM. The Gold Standard PBL emphasizes the significance of a public product, which is all part of marketing. We need to make sure we are giving our students an opportunity to present to an authentic audience to make the experience come to real-life even more.  
While key knowledge and understanding ('content standards, concepts, and in-depth understanding…fundamental to school subject areas and academic disciplines') are at the center of any well-designed PBL, we must not exclude success skills and the public product.   
How do success skills play into your internship experience?
Comments are closed.