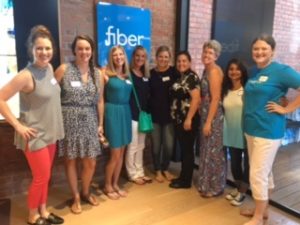 Shout-out to Michelle Beatty and her mentor, Jess George, at Google Fiber who put together an incredible event last week. All STEM and STEAM schools were invited to attend Tech on Tap, a free hands-on-experience where teachers could learn more about the STEAM To-Go mobile labs and gave us an opportunity try out the different materials that could be checked out for our students.
It was an awesome opportunity for our staff to come together as we start our venture as a STEM magnet school. Eight of us from Winget Park Elementary went, and we were able to use Makey Makeys to work on music and circuitry. So fun! Our students would love it! I've read about Makey Makeys, but I realized when I actually got to see it and even use it, it's way better than reading about it! We also were able to use the Clayframes app to work on animation and coding. Another cool experience.
Being able to see these kits at work firsthand makes it easier for me to promote this to our school. As a CMS STEM school we have the luxury to sign out the kits for our students and use the kits for a week. The kits include the hardware and educator guides, which we can integrate into our classroom instruction and extensions. As a new STEM school many of our children have limited exposure to coding, and this is a great starting point for them.
I can't wait to see what else Google Fiber may have to offer in the future that we can take back to our classrooms. I'm so glad I've learned about the services Google Fiber provides to our community.
Comments are closed.