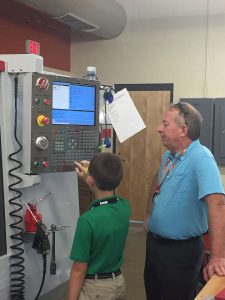 As an elementary school in the early months of our partial magnet journey we are just getting our feet wet with experiences related to STEM. One of our first field trips highlighting STEM was just 5.5 miles down the road to our feeder high school-Olympic Community of Schools. We were invited to their TechFest. About 30 of our 4th and 5th grade students spent a morning participating in various sessions hosted by the high school. Our students were those in our First Lego Robotics League or the Gameshakers Club, which is a coding club that students participate in once a week.
Our eager student scientists, technicians, engineers, and mathematicians had the opportunity to participate in five-25 minute sessions in small groups visiting the following stations:
Drone Technology (FLYmore Academy)
Bosch Advanced Technology & Manufacturing Center (Christensen)
Solar & Renewable Energy (SBM Solar & CPCC)
Solar CockRoaches (Livingston & Haven)
Computer Integrated Manufacturing & Robotics (Wykoff)
The drones were definitely a hit, and the energy was buzzing when the students got to see them first hand and find out more about how they work. http://flymore.academy/
Then, we moved onto the advanced manufacturing area. Thanks to Bosch Rexroth, a Kenan mentor site, Olympic has metal-cutting and finishing technology, with multiple lathes, milling machines, saws and grinders, along with metrology and quality-control stations. https://www.boschrexroth.com/en/us/company/press/press-details-36736
From there we learned about solar & renewable energy, and the CPCC instructor related it to electricity for students in order for them to connect. They shared different projects they've worked on right here in NC and how this form of energy is becoming increasingly popular in our state.  http://www.cpcc.edu/               http://www.sbmsolar.com/home/index.html
Students moved onto Solar CockRoaches and learned how engineers are designers and inventors. They got to see a strand of LED lights that were developed by this group. The firefly was introduced to students. Essentially, this device is a phone charger without needing an electric outlet.         http://aeginternational.us/firefly-light-where-you-have-no-power/
Their final stop was in a high school classroom where high school students shared their experiences as a student at Olympic High School. They were able to see the different projects and products students were creating and working on throughout the school day.
It was a great experience for our elementary students to learn first hand from experts in STEM related fields about what is going on in our local community. They also were in awe of being at the high school and having an opportunity to see all the incredible things going on at their future school.
Comments are closed.