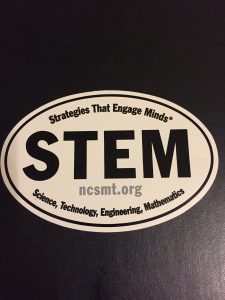 As we evolve into a partial STEM magnet school, we continue to look at where we are currently and where we would like to go. Our principal's laptop cover now displays a STEM sticker we snagged at the Fall Institute, and when he is talking with teachers, parents, and community, one of his talking points goes back to our goal as a STEM school, which is to demonstrate and provide our students with Strategies That Engage Minds. At an SLT (School Leadership Team) meeting one of our parents was adamant about coding for her 1st grade child. While it would be sensible to want this for your child if you chose a STEM magnet, our principal made sure our parents were aware we were not just focused on coding and technology. That meeting was an opportunity for us to reiterate what STEM means to our school-Strategies That Engage Minds. Using this idea communicates with others that we are so much more than Science-Technology-Engineering-Math.
In addition, we recently had a STEM meeting for teachers, in which teachers (on a volunteer basis) attended, and we were able to collaborate on what is going well for us as a school as it relates to STEM, what we would like, and how we can better communicate and market our school.
Positives for us at this point are:
the use of Defined STEM

Imagination Chapter

B3-Books, Brain and Body hands-on experience

PBL (Problem Based Learning)

Challenge-Based Learning

Content Integration

PL (Personalized Learning): morning meeting, goal setting, student data trackers

ABL (Active Based Learning)-move to learn
Some of our wishes include:
Technology: create more than consume

Field exposure with local business & industry-take advantage of what's right around us

3D printer-engineering design

Makerspace PD & school-wide use

Broaden view of STEM

How do we "teach creativity"? Unite-create-innovate
What do we need to work on in the very immediate future?
Point person

Mission/Vision/Motto

Who's in the building-share expertise?

Opportunities to learn from others

Move planning time?

Timeline-where are we headed next week, next month, two months, next year, etc.
What sets your school apart or your teaching apart in connection with STEM?
Comments are closed.