Each school year our district provides teachers with four early release days that are intended for professional development. Last week was one of those days, and our school (Winget Park Elementary)  had the opportunity to head out of the building and visit Red Ventures, Pfaff Molds, Chiron, or Siemens. I had the fortune to go to Red Ventures, which is a technology marketing company. They 'connect online customers with products and services in the home services, financial services, and healthcare industries.'
It's always nice to get out of your box and see what goes on outside the classroom walls. Red Ventures employs about 3000 people at their Fort Mill, SC, location, and the buildings are all relatively new, within the last 15 years or so, with their newest building being about a year old. Their new building is a curved structure, and it is named The Learning Curve. This is where we spent the majority of our afternoon.
A Winget Park alum, Lynnette Munez, led our session, which was really neat. She was a 5th grade student my first year at Winget Park in 2008-2009, and now she is working at Red Venture as a jr software engineer, through the Road to Hire program. She and her team of about six other employees presented to about ten teachers how their company is related to STEM. They talked about the coding aspect they do; however, they also honed in on the soft skills of STEM. The adaptability piece really stuck out to me as one we have not touched on as much. She said students need to be able to pivot, think on their feet, and adapt. As teachers we need to be flexible, too.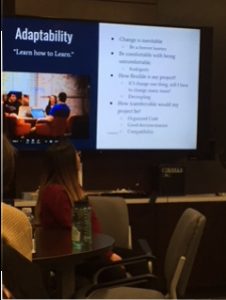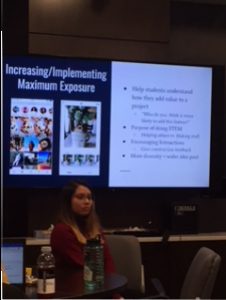 After their presentation we split into two groups of five or so, and we were tasked with building a house of out of legos within 15 minutes. About halfway through she stopped us to tell us the house could have no windows, even though those directions were not given ahead of time. When the 15 minutes was up we talked about how nobody asked questions, and it's important to be able to ask questions and give and receive feedback.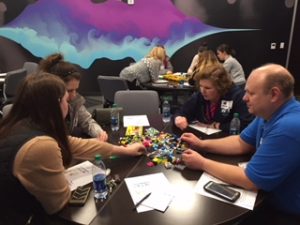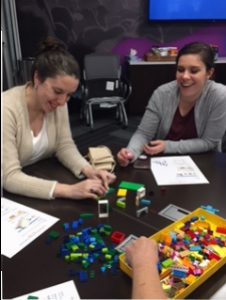 Then there was a panel/open forum where we had an open discussion about bridging STEM in the workplace with STEM at school. It was a great way for the two parties to converse, and at times it felt like we were preaching to the choir, and we needed people higher up in education who are making the decisions to hear our conversation. They talked about how students need to be able to work in teams, and they need to be able to dig in and try and fail. Too much time is spent on how to take a test, and we miss out on engaging students.
As the day neared its end we were able to take a tour of Red Ventures. While I walked around with Munez I felt like I was on a college campus. It was a relaxed atmosphere, yet people were also very engaged in their work whether they be sitting on a sofa, drinking coffee at a table with their laptop open, or sitting in a small glass conference room conversing with colleagues. I also noticed people playing basketball in the gym, there was a bowling alley, a spinning studio, a yoga room, and shuffleboard table on the skywalk. The culture is very warm yet they foster a competitive spirit.
I end today's entry with an article that was shared while visiting our STEM site.
Comments are closed.