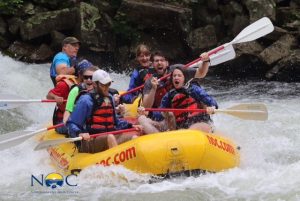 It has been an amazing week at the KFP Summer Institute. There have been so many experiences that helped me to grow as an educator. However, the highlight of my week was white water rafting on the Nantahala River. I had never been rafting before so this was a completely new experience for me. On the bus there, I was feeling both excited and nervous, not knowing what to expect or how it would go. The other Kenan Fellows on my raft and our awesome guide put me at ease and made it a truly fun, exciting experience. This activity sums up the entire week for me. I was a little hesitant at the idea of spending the week with strangers (probably because I am an INTJ as I discovered today) but once I was here and engaged with other teachers who are passionate and interested in the same things, I ended up having a wonderful time.
There are so many things that I hope to learn more about and implement in my classroom this year. As an AIG teacher working with students from kindergarten to fifth grade, I have the unique situation where I can differentiate and modify many of the activities to reach a wide variety of students. I learned more about STEM and PBL as well as new technology tools.
Another highlight of the week and change from other professional development experiences was the chance to interact with and learn from fellow participants as well as past Kenan Fellows. The edKamp where we got to choose our sessions (and even determine what sessions would be taught!) was a new experience that I truly enjoyed. Getting to talk with other teachers who are trying PBL in their classrooms or have MakerSpaces was helpful because we could share ideas. We are all at different stages in the process of implementation and will be able to support one another during our fellowship throughout the upcoming year.