"Your students sound like little scientists!" 
That's what a colleague of mine said after observing one of the lessons inspired by my Kenan Fellowship product.  I have never been prouder. Proud of my students, proud of my mentor, proud of the Kenan Fellowship support partners, and proud of  myself as a teacher.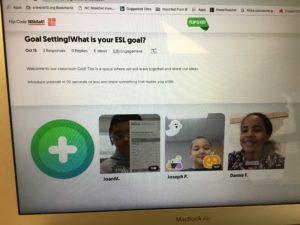 I am finally teaching the unit originally conceived during my summer internship and at the Kenan Fellowship summer and fall institutes.
To begin with, my Kenan Fellowship has completely changed the way I approach everything that I teach.  And I do mean everything.  For example, my first lesson this year was having students communicate their personal ESL goals.  This entails them looking at their past year's language proficiency scores and deciding on an area to improve.  I typically would ask them to  support how they will do this with several details.  While this activity is a personal goal setting activity, designed to boost self-confidence and provide motivation, it also gives the English learners that I teach valuable practice in organizing and supporting their thoughts orally and in writing.  This year, because of my Kenan Fellowship product, it also served as a listening activity which students used to collect, interpret, and communicate data about each other's goals.  Due to the influence of my fellowship product, this lesson led me to focus on the background that the students would need to begin collecting, interpreting, and communicating the data for the tomato seed project later in the unit.  Even as they communicated the data about their peers' goals, they are beginning to use science/STEM discourse and developing inquiry skills.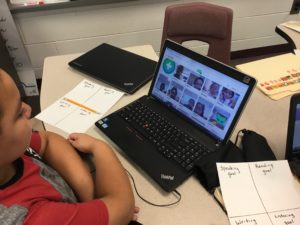 As additional practice gathering data, I planned another lesson where students created Google Forms to ask more questions to a larger pool number of people.  This gave students still more opportunities to practice data collection and data interpretation.  Of course, they also practiced language skills by communicating the data that they collected and interpreted.  Needless to say, without my Kenan Fellowship product guiding my planning, it would not have occurred to incorporate this so early into the unit and begin to focus on the science skills this soon.  Additionally,  focusing on inquiry skills during the early lessons gave me a chance to scaffold these science skills without incorporating the science experiment content, which can be overwhelming for the students.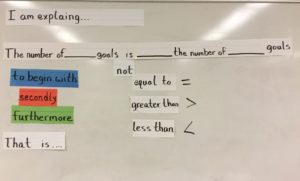 After lessons that incorporated opportunities to practice collecting, interpreting, and communicating data:  First, with their peers' goals, then with a survey they received from me, and finally with a survey that they created and sent themselves, the students have sufficient background to collect, interpret, and communicate the data from the tomato seed experiment in the lessons that will follow.
The next several lessons will involve students researching how a tomato seed grows into a full plant with its fruit.  The process for learning about the tomato plant life cycle will involve the Project based learning model.  When I explained to one student that he would be growing live tomatoes in the classroom and collecting and communicating data about their growth to actual scientists, he simply said, "whoa!".  My students and I are really excited about how this unit is going so far and can't wait to proceed.