When I did the "ant picnic" activity with my students in August of this past school year, I saw how citizen science can give students the opportunity to participate in authentic learning.  I also saw how it helps scientists generate data that would normally take months or years to gather.
I was so excited to find out that I was a recipient of a Citizen Science Conference Scholarship. As I wrote in my application, "I am excited about learning more about citizen science projects.  These activities have increased the level of engagement of my students tremendously."  This is very true, as a teacher of English learners, I have seen how the citizen science activities that I have used in my classroom promote increased academic language use with my students. 
Now after attending the conference, not only am I even more interested in doing additional projects and activities, but I am interested in securing funding to develop a program/set of citizen science curriculum that will give my students more buy-in.  I now envision citizen science projects that draw on students' own funds of knowledge, and projects that have roots in the community: Projects that drawn on students' own inquiries and lead to improving the community in which they live and are a part of.  I want to give students a platform to solve the problems that they are passionate about and the workshops at the Citizen Science Conference have given me the tools to do this.
Thanks to the CSA Conference, I am going from "Ant Picnic to a co-created, community-driven, empowering citizen-science based project. 
As I look back on the conference, I can categorize my experience into five major themes.  I have listed each one below and I will provide my perspective on each one.
My Main Themes of the Conference:
I. Anyone can be a scientist!
II. Science is all around us, we have get outside and experience it!
III.Environmental justice is THE original citizen science!
IV. Scientists need the community just as much as the community needs them!
V. Partnerships and Collaboration make Citizen Science possible!
I. Anyone can be a Scientist!
This was a common, recurring theme that was present in just about every workshop that I attended.  Everyone from the keynote speaker, Dr. Max Liboiron, to many of the participants I chatted with, said this.  In fact, many in attendance did not have a science-background at all.  When I first began to do some of the citizen science activities and projects, I felt as if I was occupying a space that I did not belong.  I did not feel "worthy" of doing science.  On the contrary, I discovered at this conference.  Science is evolving and is striving to be more inclusive of others.  Science needs more diverse viewpoints and is moving towards creating more equitable structures for gaining information.
This movement toward diversity is powerful, as many previously underrepresented and marginalized communities will now be able to gather and contribute data about their concerns and use that data to advocate for change.
As one of the speakers said,"We don't know where the next solution will come from, maybe someone from the public and not necessarily from the scientific community, will look at the data and figure out the solution."
II.  Science is all around us, we just have to get outside and experience it!
According to one of the workshop's presenters, kids today can name more Pokemon! Characters than species of plants and animals.  What does that say about our children today?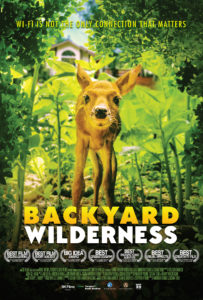 Maybe, it's that our children are not invested in nature anyone.  With our society's reliability and heavy emphasis on technology, our children have lost the wonder of going outside and connecting with nature as we once did.  As a result, as species become endangered, future generations of children and young adults will not care because they won't have the connections with them as we once did.
One of my favorite presentations at the Citizen Science Conference was the screening of the film, "Backyard Wilderness".  This is a brilliant film about the creatures and animals that inhabit our spaces shown from their point of view right in the backyard of a typical American home.  This film looks at a girl doing a report about a salamander that goes about its life as she researches it on the internet and skypes with her friends about it online.  All the while, the salamander's ecosystem, habitat, and life is happening right outside of her window.  It's only at the end of the film, when she discovers the wonderful natural habitat and awesome creatures that exist right outside of her home and that she makes a connection with the animals and their habitat right in her own yard.  After the film, there was a great discussion about how we as educators and parents can use technology such as the iNaturalist software, and Seek software to encourage our youth to explore the wilderness around us.  There are existing initiatives such as "Bioblitzes"and Observations that encourage people to go out and explore.  These apps use technology in a similar way that "Waze" and "Gas Buddy" use social media to provide a more interactive approach to exploring nature.  This, not only encourages people to explore their own environment, but provides scientists with with a more precise idea of the number of taxa that exist in a habitat.
III. Environmental justice is the original citizen science
One speaker defined environmental justice as making sure that vulnerable populations are being treated fairly when it comes to issues of water and air quality.  As a person of color, before going to this conference, I was very aware of issues of racial discrimination and prejudices in almost every area of society, but I never thought about inequities that exist in environmental practices.  As Dr. Robert Bullard stated, "America is segregated and so is its pollution. Race and class still map closely with pollution, protection, and vulnerability."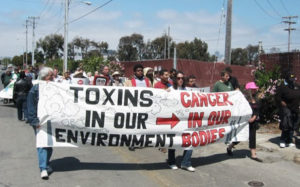 After hearing more speakers and talking with several of the participants at this conference, I now understand these issues and I understand how data from citizen science can empower communities to have a more powerful voice with environmental practices.  As one participant stated during a conversation, "Environmental justice is THE original citizen science."  He recalled how his community rallied together to get the playground mulch that was made from tires discarded.  It was made of old tires which when decomposed produces a toxic and hideous-smelling substance.  This condition of the playground went on for months, until the citizens began to do their own air quality tests and reported these results to the EPA.  That's when scientists discovered that the tires that were being used break down to produce a smelly, potentially hazardous by-product.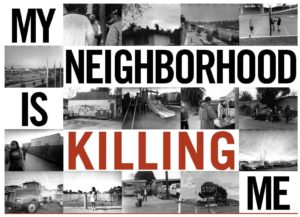 Although, this had been tested in the labs previously, it wasn't until this real-time, on-site data was collected in the community, did scientists realize that this was a problem in the community.  This is the original citizen science.
Today, this work continues and is possible largely because of citizen scientists in the communities being able to question and report their findings and own data to support what is unfair and unjust environmental practices against a particular community who before was marginalized because the inability to report data.
IV. Scientists need the community just as much as the community needs them.
When I came to this conference, I came hoping to gain more opportunities for my students and I to participate in citizen science activities and projects.  I realized after doing "Ant Picnic" how participating in authentic science experiments can help improve my students' engagement.  I saw how much more effective they communicated data, when they knew that their audience was a group of scientists.
However, after attending the conference and talking with scientists, I realized that we, the participants of citizen science activities, who collect and interpret the data are really doing a major service for the science community.  One scientist told me that without "citizen scientists" there is no way that she would be able to collect and interpret the data to explain and support the work that she does.  Just then, I realized that scientists need us: the citizen scientists, just as much as we need them.  It is truly a symbiotic relationship.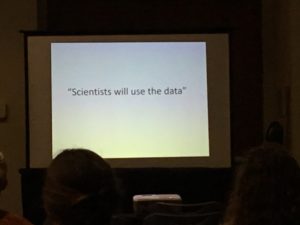 Dr. Rob Dunn, of NC State University, credits much of his research to the number of citizen scientists who have helped him discover thousands of new species of microbes and insects that were not previously known about in North America.
While, Dr. Libioron even insists on paying anyone who assists with her research.  She says that citizen scientists are THAT important to her work.
As Dr. Dunn states,"Scientists can focus on explaining what the data means and finding patterns while others (citizen scientists) gather the data."
After leaving this conference, I realize how important the work we "cit-scientists" do for the scientists and I also recognize how doing authentic science increases engagement in students.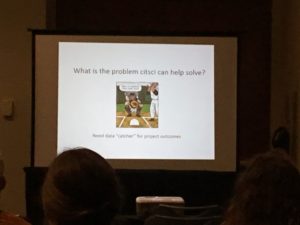 In fact, I am leaving the conference with information about how this partnership between citizen scientists and researchers can lead to something really extraordinary.  My students and I will be participating in the Eyes on ALZ project.  While this will be very engaging and fun for my students, it will also be vital to providing data about how certain drugs respond to Alzheimer's disease.  This will be something that my students will be engaged in that will hopefully lead to a cure for a devastating disease.  While I was at the Citizen's Science Conference, I learned that Citizen science really is a win-win.  It is one of the few things I know, where everyone involved benefits.
V. Partnerships and Collaboration make Citizen Science possible
I knew that citizen science is naturally a partnership between scientists and classrooms.  However, I learned that the partnerships and collaborations can extend much deeper and further much richer results.  There are a number of government and community-based organizations that partner to advance science.  Each has its role.  Whether it is a group funding the research, a group partnering with scientists to collect the data, or the scientists themselves analyzing and interpreting data, everyone has a mutual interest and investment in making citizen science possible.
At the conference, I met several ICBOs (Independent Community Based Organizations) who want to partner equally with funders and university researchers to advance environmental justice causes.  Similarily, there are university researchers, like Dr. Robb Dunn who are seeking classrooms and participants to help collect data about their investigations into research about topics dealing with The Ant Picnic Project, The Sourdough project, or The Great Pollinator Project.
I discovered that there is a web of sorts whereby many are interdependent on one another to collaborate to make citizen science happen.