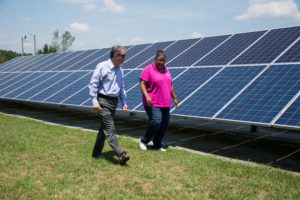 The 2020-21 application period has been extended through Feb. 3 for the Haywood EMC EmPowering Education and STEM West Diversity and Equity Asset Mapping Project fellowships only. 
These fellowships address the critical need to develop and empower high-quality teachers who can drive innovations that make learning more authentic and engaging for students.
The fellowship begins with a summer internship in a higher education laboratory or local industry setting and is supported by residential professional development institutes that focus on instructional leadership, elevating teacher voice, strengthening ties between the school and the local community, peer coaching and mentoring, and growing professional learning networks that extend beyond the school and local district.
Fellowship projects have a unique set of criteria that in some cases is restricted by district, grade level, and subject. Projects vary from scientific research to work experiences in the agriculture, energy and high-tech manufacturing industries.
Each Fellow is awarded at least a $5,000 stipend and must develop and implement relevant educational materials and/or programs based on their internship experience. Fellows remain in the classroom while completing the year-long fellowship.
Applicants must submit an essay detailing their desire to have influence beyond the classroom and two letters of recommendation. Final candidates are invited for an in-person interview to be conducted in their local area. Fellowships are based on funding and awarded each spring.
Want to learn more? Join us for a 2020-21 application information session from 3:30-4:30 p.m. on Wednesday, Dec. 11, 2019.
To join the session, follow this link and download Zoom.
Please feel free to contact us at kenanfellows@ncsu.edu should you have questions.
Learn more about how to apply