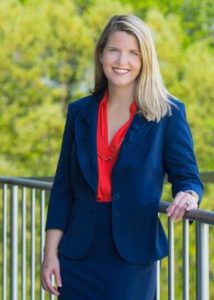 Brenda Berg is the President & CEO of BEST NC (Business for Educational Success and Transformation NC), a nonprofit, nonpartisan coalition of more than 100 business leaders with a focus on making education in North Carolina the best in the nation. Through policy and advocacy, BEST NC strives to ensure that every student in North Carolina will graduate with the knowledge, skills, and behaviors to succeed in a competitive global economy.
Ms. Berg has more than 25 years of experience as a business owner, public policy professional and education advocate. She founded Scandinavian Child in 2002, a baby product manufacturing and importing business. Prior to founding her business, she had almost 10 of public policy experience in education and transportation policy and programs. Her passion for education stems from her own experience as a first-generation college graduate. She also has two children in North Carolina public schools and serves on several boards and councils, including the Kenan Fellows Program for Teacher Leadership, the Institute for Political Leadership, and the NC Community College Foundation.
She has a B.A. in Economics and a Master's degree in Public Policy, both from Georgetown University.