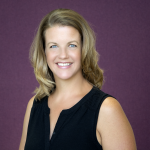 My name is Beth Campbell and I am a teacher. I don't mean that I am a grown-up with a job and that job happens to be teaching – I mean I AM a teacher. I have chalk dust in my veins. When other drivers cut me off in traffic I want to create behavior charts for them. My favorite kinds of questions are the ones that turn out to be unexpected beginnings of adventures.
I am lucky enough to teach at a pretty amazing school in Raleigh, NC. My kids have walked rough paths. Some live in poverty. Some have suffered through trauma or abuse. Some face challenges at home that would bring most of us to our knees. One thing they all have in common is that they have faced failure in school. As an alternative school in a large, urban, public district, we work to help these students find success. It is a mission I enjoy every day!
This year, I am enjoying a new adventure as a Kenan Fellow where I am working with a local researcher and will find ways to bring current scientific breakthroughs and practices into my classroom. Follow me to hear about this journey and get to know my students.
Inspiring kids, chasing down scientific mysteries, and giving support to those who need it most is all WORK WORTH DOING, and I am grateful for such an amazing gift.