This has truly been a whirlwind summer, fall into winter. After finishing with the summer Kenan professional development and the internship with Dr. Pam Carpenter at Freedm Center https://www.freedm.ncsu.edu/, I was excited to enhance my instruction and deepen my students' understanding and enthusiasm for STEM.  This I continue to do, integrating STEM, exposing students to new and exciting ideas and technologies.

2016 Catch-up
As I got got into the school year, life happened and unfortunately the blog didn't, so this is my first semester catch up. It has been a wonderful and exciting year filled with new learning opportunities, people and experiences. These led me to new ideas and projects. First and foremost, I am grateful to the opportunities opened to me from my experience with the  Kenan Fellowship program. Through the wonderful professional development and people I have met through the Kennan Program, I have been able to enrich my classroom experiences and further incorporate and weave STEM through my instruction. Exciting students about real world science connections has been the focus of my entire career.  This focus has only become deeper with the addition of resources and technology that allow students to explore and develop ideas.
From refining qualitative and quantitative observations on gum balls to exploring chemical reactions students made connections to their world.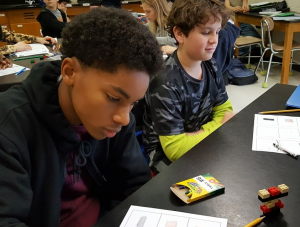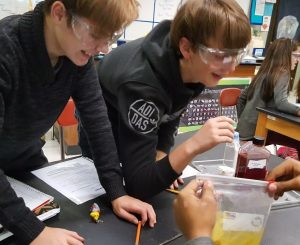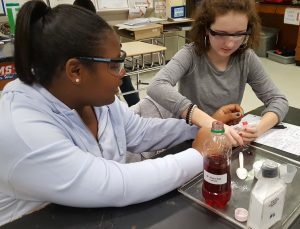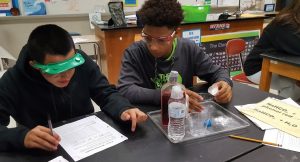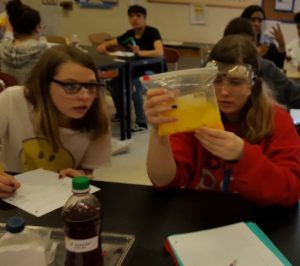 As we move into 2nd semester and close out the chemistry unit may student will focus on a study of renewable batteries for the upcoming project.
https://www.ncsta.org/annual-pdi/about-the-pdi/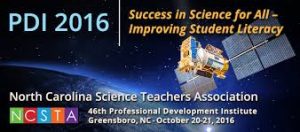 Professional Development
Kenan provided the opportunity for Professional development and allowed me to renew my relationship and involvement in the North Carolina Teacher's Association.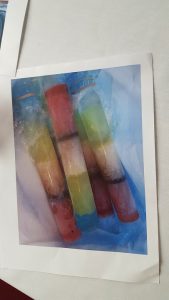 Exploring Ice Core
This institute was an exciting, reinvigorating opportunity in which I was able to gather new ideas that can engage students . The theme of the conference "Success in Science for All – Improving Student Literacy" was very much in line with personal and professional goals.  I was able to renew and expand my professional contacts, networking with colleagues. It was a well run conference, and I left with a new portfolio of ideas, lessons, and resources that can impact the students at my school.  As a teacher of many years, I am always content if I can take away one new idea or tool and I left this professional development with many great ideas.
I will incorporate choice boards along with tools such as the POWER Lab, a tool for structuring differentiation from "Data Driven Differentiation".  "The Value of Scientific Explanations in the STEM Classroom," elaborated on the Claim-Evidence-Reasoning (CER) framework that students use to explain scientifically how their observations and data from investigations are connected to science knowledge. This framework can help students to analyze data and improve writing skills.
The opening session speaker Erika Bergman from National Geographic shared her experiences as a submersible pilot and passionate deep sea explorer. This was an inspiring view of ocean exploration and an introduction to Girls Underwater Robotic Camp, a STEM initiative to get more women into Engineering and Exploration. Using Erika Bergman as a role model can expose my girls to STEM opportunities.
I went to several sessions on solar and alternative energy including Photonics -Science House-Dr. Pamela Gilchris, NC Energy Resources- Roger Shrew. Lesson ideas from this sessions will enrich my lessons on alternative energies.
At the NSTA  I talked to a representative of NCGreen power and learned that the matching solar schools grant was only for a self standing solar tower not the roof top expandable plan that was developed by NCSOLARNOW  http://ncsolarnow.com/ This changed plans for pursuing this at Wake Forest Middle.
I was fortunate to share this experience with colleague, Kenan Fellow and friend Rachael Polmanteer. I was glad to mentor Rachael, and share this wonderful resource with her.
On to Bigger, Better and Brighter use of Photovoltaic Power
Authentic Classroom Connections
While all this excitement was going on, I was working on a project that grew directly from my internship.  I want to thank Dr. Pam Carpenter at the Freedom Center who saw my passion for sustainable options for the future. With the guidance of Dr. Carpenter and other scientists and educators at the Freedom Center, Erik Schettig, Catie McEntee and Landon Mackey, I explored opportunities to utilize solar power in my class and develop a program to utilize solar panels built by students to recharge batteries used in the school.
WFMS Golden Solar Recharge – PTA Grant
Synopses – Students will construct a solar powered  battery re-charging system to replace the batteries currently being used to power the calculators and other battery powered equipment.
As  Kenan Fellow, I have spent the year (summer internship with Freedm Center at N.C.S.U.) exploring ways to engage students in STEM (Science, Technology, Engineering and Mathematics) while teaching about global issues and sustainability. In my Fellowship, I was able to explore many aspects of the Smart Grid and alternative energy options for the near & long term future. I was able to focus my exploration on practical ways to utilize student built solar panels. These panels were built in a past project but, could not be mounted on the roof as originally planned.though they could be used to recharge batteries for calculators.
This project will mesh with the instructional unit developed from the Kenan Internship in which students explore the Smart Grid and alternative energy options.
What Makes this Golden (Au)?
Our Autistic (Au – symbol for gold) classrooms will play a vital role in the project. They will be in charge of taking the panels out each day and returning them at the end of the day. They will also be partnered with 8th grade Science students to recharge spent batteries.
Challenges and Disappointments
My original plan included pursuing options to create an expandable solar array on the rooftop of Wake Forest Middle School. For this I owe a great thanks to Greg Olenar and Max Palmer of NCSOLARNOW. From the 1st time that Greg spoke to my students and planted the solar seed in my mind, to the recent design for an expandable solar roof array by Max Palmer, NCSOLARNOW has always been behind solar schools. Their help, time and support  has been essential in moving forward in the grant process. http://ncsolarnow.com/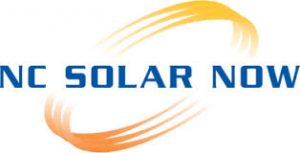 The success of programs of this magnitude (starting with raising $5,000-10, 000) are integrally linked to supportive leadership. From the initial development this project, and others,  I could always count on the enthusiastic support of Stacey Weddle.  After years of leadership Mrs. Weddle will bring her humor and positive leadership to open River Ridge Middle.  I can not underestimate her positive impact on this school but we wish her the best as her career moves to the next stage.
This uncertainty in the direction of future leadership, combined with a deeper understanding of the matching grant opportunity from NCGreenpower has derailed the the current plan for a rooftop solar array. While speaking to a representative from NCGreenpower at the North Carolina Science Teachers convention, I discovered that the matching grant program is  only for a self standing solar array and can not be applied to a rooftop array. The idea is not abandoned but postponed until supportive leadership is assured. So  I will focus my attention on getting the WFMS Golden Solar Recharge Program up and running and refining the Power grid and solar power lesson for the spring.