On the first day of my internship, we spent some time outdoors catching dragonflies.  I caught a beautiful one, and while I don't remember the name, I remember feeling such a sense of awe at its intricate design.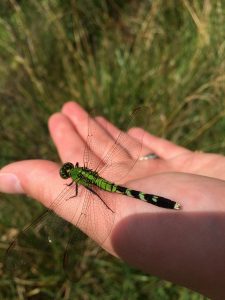 This awe continued throughout my internship at the NC Natural Science Museum.  I kept telling everyone that I had the opportunity of a lifetime.  It's definitely true.  It was such a powerful experience to be working in a microbiology lab- learning about equipment and practicing how to use it.  I am so thankful that we had the opportunity to work with Dr. Julia Stevens.  I was so impressed by her talents but also her ability to convey the science we were learning.
One of my greatest fears was that I would be inadequate or unable to understand the science.  You see, I've been thinking from a language art's perspective for so long.  I had to reach back into the recesses of my mind to remember the terms, measurements, etc.  But, I am thankful for the many encouragers on my team and in the lab.  I found myself growing in confidence and excitement.  I was reminded that learning is more about awe and excitement and less about having every "i" dotted and every "t" crossed.
This internship reminded me that there are so many things about our world that I don't know yet.  There is the world of soil and the world of ants and the world of mammals and the world of dinosaurs and it goes on and on.  After this summer, I'm ready to keep exploring!