Saying that I enjoyed myself during my internship would be an understatement. I feel like over the 3 weeks that I was there, I learned so many things, created new experiences, was forced to think outside the box and try new things. I also feel like there were so many bonds and friendships created. By the end of the three weeks, my team pretty much knew which restaurants we should or should not have for lunch ( I'm a picky eater but will try anything once) and that I looked forward to my nightly video chats with my 2 year old son.
The most interesting moment for me was having to collaborate with two other teachers who didn't teach what I teach (math) and a scientist who didn't have any background in education. I have never collaborated across subject areas, and definitely not across grade levels. I am so thankful for Kate and Beth who did not exclude me during the process because they both taught science. And poor Jason lol. I know that there were plenty of days that he was wondering if we would get anything accomplished with how many times we changed our minds about the direction of the lesson.
My biggest challenge during my internship actually had nothing to do with the actual internship. I was having to be away from my 2 year old son for a week at a time. I have never been away from him that long. It was very difficult not being able to see him daily. Even though I was missing my little boy, I enjoyed my time at the museum. Working with Jason was awesome. He let us play around with some of the tools in the Paleo lab. We touched real dinosaur bones. It was great. It was an experience that I don't think I ever would've had if it hadn't been for Kenan. It also made me realize that paleontology is an active field. They are still traveling to Utah and different sites and finding dinosaur bones and fossils. I would have never thought that they were still doing that. The behind the scene tours of the museum were also awesome. I didn't care too much for the Anthropology Zoo lab because I don't like insects but I did go in and look at all the live insects and animals and then I made my way out lol.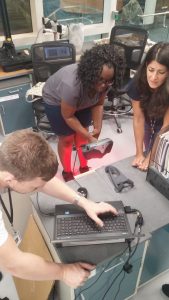 I left the internship experience feeling like I had been changed. It really took me out of my small town box. It caused me to experience and try thing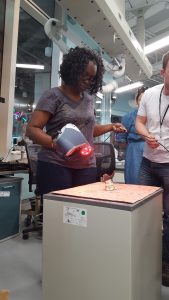 s that I don't think I ever would have tried on my own. That is an experience that I can share with my students about how it is okay to try new things. It's okay to take risks.
Until next time…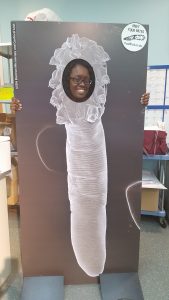 Citizen Science Experience