My internship is part of the Community Outreach and STEM Education Program in the Office of Research and Development at EPA – RTP.  My mentor, Kelly Witter, is the director of the program.  She leads workshops, camps, and school outreach to bring EPA science to the classroom. I quickly learned why one person described her as the biggest cheerleader of EPA because she has such enthusiasm for her work. The first morning I checked in, she met me at security to take me upstairs to her office.  She proceeded to introduce me to EVERYONE we passed. At the same time, she recruited a number of folks to assist with a Speed Mentoring session she had planned for a student camp at the end of the week. It took us quite a while to make it to her office. I really appreciated this introductory experience though, as it embodied Kelly's work so clearly – connecting people and science to the public, especially students.  
I also had the opportunity to work closely with the program coordinator, Lauren Bamford.  She is an incredible educator who taught me how to use many of the office's outreach lessons.  She measures the impact of the program's outreach efforts. We also spent some time working on a sustainability game for K-5 students.
Kelly quickly went to work connecting me with people in the Office of Research and Development and the Office of Air Quality Planning and Standards.  She arranged thirty two one on one meetings for me. Although she scheduled them as 30 minute meetings, most ran an hour or so. Meetings were set based on schedule availability but the topics we discussed fell into four categories.  
Mapping
-EnviroAtlas Program
-LIDAR
-EnviroAtlas Educational Materials
-Remote Sensing and Mapping
-Field Work Mapping with NASA
-Cleanups in My Community Map
-Meteorology Projections
Air Quality
-Environmental Justice and Community Outreach
-Cookstove Research
-Health Effects Research
-Air Quality Regulation Process
-Ecology
-Citizen Science and Air Sensors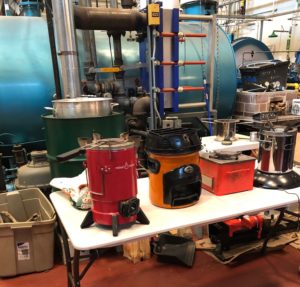 Human Health
-Chemicals in Consumer Products
-DPS Insights
-Harmful Algae Blooms
-Water Quality Research with Mass Spectrometry
-Public Health and Industrial Hygiene
-Computational Toxicology
-Health Benefits of Ecosystems
-Environmental Justice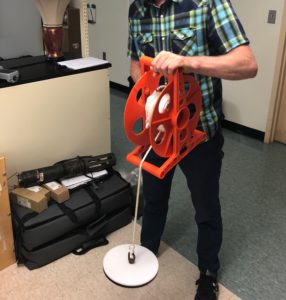 Sustainability
-Designing K-5 Sustainability Games
-Generate: The Game of Energy Choices
-Sustainable Healthy Communities
-Student Connections to the Environment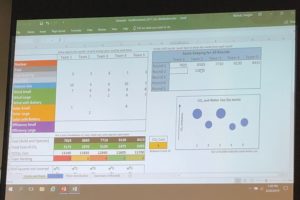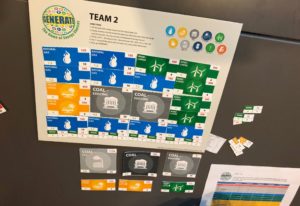 I met with scientists, policy analysts, post doc fellows, budget analysts, and program directors. I jokingly asked Kelly my first afternoon if there was a personality requirement for working at the EPA-RTP in which you had to be incredibly kind and helpful.  I cannot say thank you enough to all of the people with whom I spoke. They took time out of their busy schedules to answer my many questions and explain their work to someone who tapped out of science early on in her college career.   
These conversations were fascinating to me, in terms of the scientific work and personal connections to their jobs.  I started each conversation with two questions.
What is your role at the EPA?

How did you get this role?
The answers to question one obviously varied, but I really enjoyed learning about people's pathways getting into the EPA.  I asked this question thinking about access for my students – what fields did they study in college, what fueled their interest, logistically how did they transition from grad school to a federal post doc or federal job?  I teach elementary school aged students. They won't be applying to PhD programs anytime soon, but understanding their academic paths helped me think about my role in the building blocks of my students' academic trajectory.  
 While some people shared a lifelong interest and success in math and science through school as their impetus for pursuing an EPA job, many described this intense connection to the environment.  They just loved being in nature; and interacting with nature was how they viewed themselves as scientists. I could connect to that sentiment. More importantly, my students could connect to that sentiment.  This was a feeling I could help foster by providing outdoor learning experiences and using EPA resources to build their environmental science context. 
In addition to these meetings, I attended the Air Quality Teacher Workshop, Triangle Women in Stem Talk and Tour, and the Summer STEAM Wake County Educator Training.  I also supported outreach with the Duke TIP Program, Student U, East Durham Children's Initiative, the Hub Farm, and the Stormwater Management Academy at SEEDS.
I feel like I am living every teacher's dream.  Everyday I learn about new resources and lessons I can immediately use in my classroom.  I can quickly run questions or ideas past the authors of these resources and use their feedback to differentiate for my students.  Plus, I had the opportunity to observe students across grade levels engage with these different resources.
I can't believe my time here is almost over!  I am beyond grateful for Kelly, Lauren, and the rest of the folks at the EPA with whom I connected this summer.  I look forward to continuing this partnership with the EPA throughout the school year.  Now on to some serious reflection to figure out how I'm going to take everything from this experience back to my classroom.   My biggest challenge will be deciding the best way to use all these resources.