I spent day one getting to know about some of the expectations of the fellowship. We will be writing our own PPR and it looks like I will include a Legislation Retreat in mine.  This was perfect since when I was asked what would you like to learn more about I said, "Advocating more effectively."
Day 2 was all about meeting these wonderful individuals and doing some great team building.  We got to see just how competitive we can be with a pen game.  Who knew writing numbers to 65 would be so hard?  We also pulled together to get the Helium Sticks back to the ground.  We had to keep our fingers on the sticks and that is not easy for the short girl!  We had an amazing presenter from Leading to Change who really made things so upbeat and has me ready to go be a rock star.  You better watch out!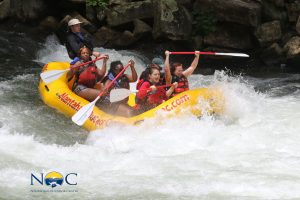 The picture above captures day 3.  We had so much fun together traveling down the Nantahala River.  Have you ever underestimated a trip?  I did not realize what an event this was going to be.  Even when our guide told us the night before that the water would be 45 degrees, I could not quite fathom how cold that could be.  Running the Troll Bridge and jumping in to said water is an experience I will cherish forever.  Everyone was cheering each participant on as we attempted this daunting task.  I took my run and sprung excitedly into the water.  The cold made me gasp just as I went in and I got a nice big mouthful of the Nantahala.