40 strangers, picked to venture into the mountains, live in "dorms," and learn from each other with all different experiences and lives. I headed out there with a car full of stuff to be prepared for anything and drove the 5 hours to the middle of the mountains.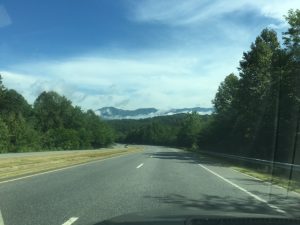 This week turned out to be more than just professional development – it was a constant adventure! We covered everything from Kenan goals, to professional development plans, to teaching to various cultures, to leadership, to number games with a PE teacher. There was extensive #twittering and the engineering design process and blogging like a champ (how am I doing?).
The highlight was certainly the rafting trip. Not only was it a thrill rush and great team building, the knowledge of the river guides is very impressive. One guide held a captive audience of over 50 people while he played Cherokee songs on a stick flute and spoken word of their traditions. They also shared with us the basic botany and ecology of the area, and how you can learn so much from the world around you if you just stop (and look it up.)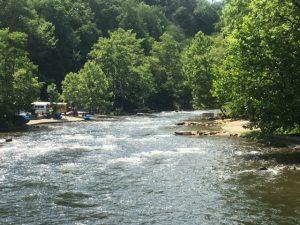 Inside the walls of NCCAT, I took the most away from our week, was the Myers Briggs assessment. Although I had taken this assessment before, the deeper explanation and ability to make connections with others through this, was definitely very memorable. I want to do this assessment with everyone I meet now – especially my staff at school! This would undoubtedly make a difference in how we work together and how we find strengths in ourselves and others. I learned so much about myself by having a context for behaviors and preferences. This would be neat to connect on a greater scale between cultures (we learned a lot from UNC Worldview about understanding others as a result of their culture).
Although I learned a lot in the big picture, from that culture awareness, it would have been of a much larger benefit to have strategies, now knowing the specific differences, to communicate with students, parents, or colleagues. The last step for application was just missing from this presentation.
We also lead (collectively) a great EdCamp to wrap up the week. I would love to take this back to my classroom as a way to review topics. Ideally, I would give students the chance to look back through the scope of our unit, and we could dig deeper into a few topics, or allow for more time on specific aspects. I also will definitely implement this with colleagues at my school. What a powerful way to give voice and choice to staff in their own professional development? In have some facilitators, it also provides leadership opportunities without over stressing a staff member being the presenter.
Overall, this was a very worthwhile experience. At times it seemed a little disjointed as we worked on individual development, classroom development, content development, technology development, and more without a necessary flow to the week.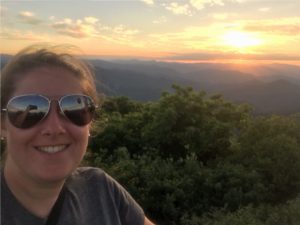 Sidenote: If you find yourself in Cullowhee, visit the Judaculla rock — great evidence of petroglyph right here in NC!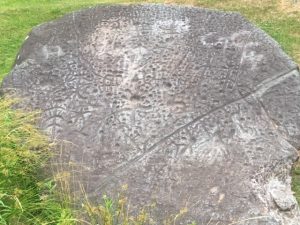 Adventure is Out There – Go Find It