Team Ant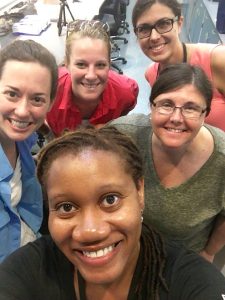 Professional Life
I teacher at Burgaw Middle School in Pender County.  I am about to begin my 7th year of teaching.  I wanted to become a Kenan Fellow to better myself as a professional and to continue my work as a lifelong learner.  My goal is to better understand how I can bring citizen science into my classroom and to build a strong network among educators, researchers and people who can help provide resources in the classroom.
The picture above is my Students Discover team: Team Ant!
In the front you will see Dr. DeAnna Beasley. Paige Derouin and Michelle Hafey are in the middle and myself and Dr. Magda Sorger are in the pink shirt in the back.