I want to begin this post on a personal note. At the end of June, my husband entered the hospital with a critical illness. This unexpected life event threw my plans into a tailspin and my internship into question. I want to express my gratitude and appreciation for the flexibility and concern shown to me during this trying time. Eaton Corporation's Forest City location, Lori Ray, and the Kenan Fellowship Program directors worked with me to reschedule my second and third-week experiences. The accommodations allowed me to take care of my situation and to gain the most from my Kenan Fellow Internship.
Upon my return to Eaton, I explored the assessment of the quality of the products produced during the manufacturing process. Operators inspect materials, and if they do not adhere to strict product specifications, then it is labeled as nonconforming and placed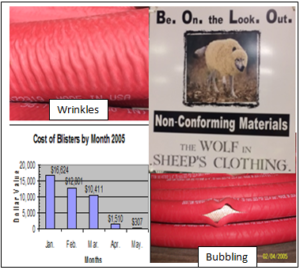 into a "hold cage." These materials are examined more thoroughly by quality engineers and management, and if it is defective, then it is scrapped. Some examples include burned wrap, patchy curing of the hose, bubbling, outer or inner diameter errors, wrinkles, and hose that does not meet length specifications. The quality manager and engineer sit down and discuss each item in the "hold cage." They utilize a problem-solving process like 5 Why or 8D to identify the root causes of the problem and determine how best to deal with them be they man, method, machine, or material issues. The results of these problem-solving strategies often reduce or eliminate the root causes creating less scrap and the costs associated with it.
Another aspect of the quality assessment process is carried out in a laboratory. Quality testing for burst pressure ratings, tensile strength, conductivity, adhesion strength, and many more are performed on each product line several times yearly. The laboratory is inspected often so that the product safety certifications can be maintained. The lab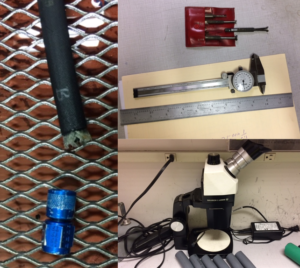 technician utilizes a wide variety of tools and techniques to perform the job. Calipers, rulers, tape measures, pressure gauges, OD and ID gauges, and a microscope are a few examples. The technician told me during my visit that it is one of the few jobs where someone gets to "blow stuff up" every day. During my visit, the technician burst three difference product samples well above the maximum pressure rating for the hose. For example, one product, rated for a 900 psi burst pressure, ruptured at more the 2000 psi. Pictured is a product with a fitting that was blown off at high pressure. Knowledge of when and how product failures occur ensures the safety of the product when it goes to market and becomes part of a vehicle or other hydraulic hose application.
Overall, I enjoyed learning how quality is maintained and how product testing is carried out. Any comments and opinions are my own and do not reflect those of, and are not made on behalf of, the company or its affiliates.