When I think about the word "commencement" in education, I think of a speech I heard a long time ago.  I do not remember the speaker's name, but i remember the sentiment. "Graduation is the beginning and you commence using your knowledge to benefit yourself or the world around you." I believe this may be my commencement.  I have a direction. I have resources.  I have the best teacher support system behind me. To quote Ernie Hudson from Ghostbusters," We have the tools! We have the talent!"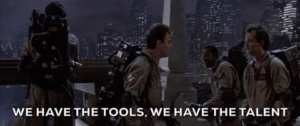 It is time to commence.  The Kenan Fellowship has provided me access to an amazing network of teachers from across the state, relevant professional development provided by Fellows who are living the educational experience and growing themselves, as well as contacts, crutches, and life-long friends.  If not us, who? If not now? When? It is time to commence.
This blog will be based on my experiences in the classroom, professional development, and seminars focused on implementing STEAM with fidelity.