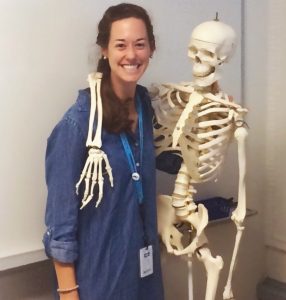 My name is Paige Derouin, and I am…
…A Learner. My love of learning began at a young age, and I owe much of who I am to several phenomenal teachers, coaches, and mentors. I attended the University of North Carolina at Chapel Hill, where I truly recognized my passion for science, specifically human biology. Since graduating, I have enjoyed many opportunities to keep growing both professionally and personally, and am thrilled to be presented with the opportunity to learn from the deeply talented and dedicated Kenan Fellow network.
…A Teacher. In 2013, I began my teaching career as a Teach for America Corps Member in Halifax County School District. In my biology classroom at Southeast Halifax High School, I simultaneously developed a passion for pursuing equity in education and relished the opportunity to make a difference in the lives of my students, both academically and personally. Last summer, I returned to my hometown of Raleigh to teach 7th and 8th grade science at Wake County's only all-male public school, and have become dedicated to developing young men who value learning and leadership.
…A Human. Much of my philosophy on education stems directly from five summers spent as a staff member at Camp Seafarer for Girls on the coast of North Carolina, where character education, independence, community, and freedom for young people is prioritized. At camp, children are challenged to grow in skills they care about while having fun, and I strive to make  the same true of my classroom. While not spending time educating tomorrow's leaders, I enjoy practicing yoga, calligraphy, and spending time with my cat (and best friend), Soybean.