"The greatest benefit of serving as a University Mentor is knowing that I can really help these hardworking educators. Kenan Fellows is a model for future university / K-12 collaborations nationwide." —Dr. Robert J. Beichner, Alumni Distinguished Undergraduate Professor of Physics, NC State Mentor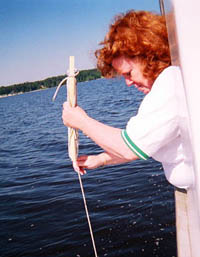 An integral part of the Kenan Fellows program experience is the summer fellowship. Spending several consecutive weeks together with Mentors and with other Fellows provides unique opportunities for learning, discussion, and development. For two consecutive summers, all Kenan Fellows participate in a six-week summer fellowship. Time is spent during the summer on research, curriculum development and professional and leadership development. The fellowship offers a number of unique workshops and speakers, but it is also a time of first-rate relationship building. Participants are able to meet fellow teachers from different grade levels, different subject areas, and a mix of school districts that reflect North Carolina's geographic, socioeconomic, and cultural diversity.
The summer fellowship allows Fellows to dedicate an uninterrupted block of time to working with their Mentors. For a minimum of three weeks, the team works on current research both within and outside the lab. Fellows gain valuable experiences working in a research facility. Together, the team develops a strategy for translating this research into valuable lesson tools that can be aligned with the state's curriculum and disseminated via the Internet. This summer research collaboration offers valuable experience not only to the Fellow but to the Mentor as well. Mentors gain a stronger understanding and appreciation of the K-12 education profession. Building relationships such as these will continue to strengthen a knowledge sharing model whose benefits impact both K-12 and university students.
For the remaining three weeks of the summer fellowship, the program focuses on a variety of key areas in pedagogy and teacher leadership. Over the last several summers, Kenan Fellows have worked directly with some of the nation's most renowned leaders in science and education.
Kenan Fellows have:
Participated in training workshops led by one of NSF's Science Learning Centers, including renowned science education researchers such as Dr. John Bransford, professor at the University of Washington and author of How Students Learn.
Partnered with the premier program, All Kinds of Minds, which offers tools to meet diverse learning needs of students.
Traveled to Asheville to attend the NC Science Leadership Institute led by the NC Department of Public Instruction.
Visited NASA Langley to meet with their education staff and obtain valuable NASA education materials
Received training by local experts on website development, computational science, and a variety of curriculum design models.
One of the most important aspects of being a Kenan Fellow is understanding the role of teacher leadership. Kenan Fellows are competitively selected because of their capacity for leadership. Through the program they further their skills by taking on even more responsibility, not only in their own schools and classrooms, but in wider spheres such as their communities and state government. Kenan Fellows have a responsibility to work for positive change for North Carolina education.
During their summer fellowships, Fellows have the opportunity to discuss together many of the changes they feel are important. They are exposed to new issues that affect education statewide and even globally.
Proper training is a necessary tool for providing teachers with opportunities to succeed. In the past, summer training workshops have offered a variety of opportunities to meet the needs of a diverse population of teachers. Fellows have participated in writing workshops to assist with preparing research publications, news articles, grant proposals, media releases, and advocacy letters. They have participated in team building activities, computer and technology training, strategic planning, preparing presentations, and service learning.
The Kenan Fellows Program is proud and grateful for the excellent speakers and trainers who have participated in our summer programs. They have included not only some of the most influential supporters of North Carolina education but also some of the top educators in the state. Many have received a number of honors and awards throughout their teaching profession. Some of these teachers are our own alumni. We are proud to have our graduates continue to give back to the program and offer professional development opportunities to the new classes. Alumni have participated in the summer fellowship in a variety of ways, serving as education liaisons, offering training and advice on project development, offering support for pursuing National Board Certification, and inspiring their colleagues and the program staff to continue to strive for greatness.