Wow – What an awesome start to our research at the Museum of Natural Sciences!
Day 1 in Raleigh
Below is the most awesome team of both teachers and scientists!
I am so blessed to be a part of this group.
Team Soil – Melissa, Grace, Me, and Doc hanging out above us!
When looking around the off-site location of the Museum of Natural Sciences, we found tons of cool DEAD things!
Who has the bigger mouth? The bass or the teacher?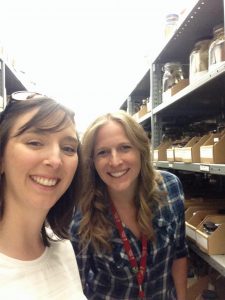 Me and Doc Julia Stevens!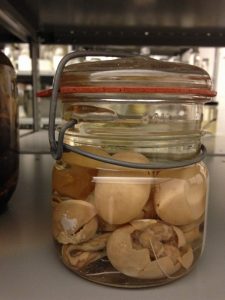 Snake eggs! Some of the eggs are broken. Can you see the baby snakes?
We also went on a hunt for dragonflies. Who doesn't like catching bugs?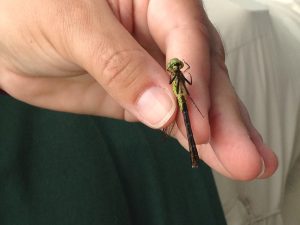 Some of us were better or luckier at catching the dragonflies, but we all had a great time.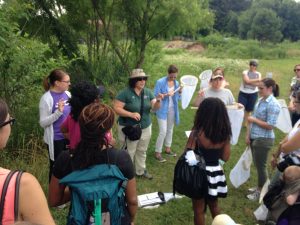 We ventured to the Museum of Natural Sciences and checked out the really cool labs that actual scientists work in (starting below). 🙂
The Dino Lab (above) was sooooo cool. I wish I could show the world what we saw on June 27, 2016.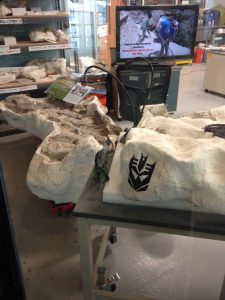 Scientist have a sense of humor. Can you see it?
I learned about PLANTHOPPERS! They are bugs that have been around for a very long time, and…they are still alive! They look way cool!
These bugs are stored at a really cold temperature in ethanol; so that their DNA is preserved for years to come.
Day 2 in Raleigh
It was a great day in the lab! We love to get are hands dirty, metaphorically speaking. We were actually very CLEAN, when playing/working with the soil.
Day 3 In Raleigh – The best day so far!
We had an amazing day learning how to make nutrient rich plates with Agar.
We worked on our pipetting and diluting skills! Team Soil even plated bacteria from both the rhizosphere of the plants and the endophytes!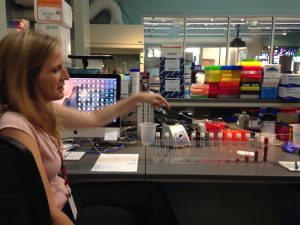 Check out CODAP! It is an amazing site that has REAL data collected by both citizens and scientists. It is a tool that teachers can utilize in their classrooms when they need current scientific data, graphs, maps, and more. We spent part of the afternoon collaborating with the Museum of Natural Sciences Citizen Science Team discussing how to make CODAP more user friendly, and how we can adjust it to benefit teachers in the classroom.
Day 4 – OMG…I love electrophoresis!!!
We had an amazing day. We spent time making PCR; that we then used in our ELECTROPHORESIS.
We took our lunch break in the museum. We spent most of our time in the Butterfly Exhibit!
In the exhibit there are other living animals like turtles and sloths; however, we questioned whether or not the sloth was actually alive. Silly thing doesn't move!
Not everything you try always works out; so, before we left we had to start our experiment again by making more PCR.
Whoa! This was a BIG day!
I hope everyone else in the land of education and science had a good day too!
Day 5 in Raleigh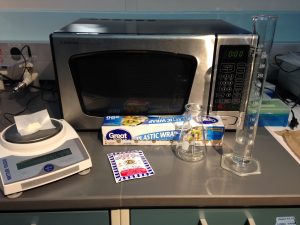 This was a great ending to our first week in Raleigh.
There are so many new and old items hiding in the basement of the museum.
I can't believe all the things I would have never had the opportunity to do without Kenan!