DURHAM, N.C.⸺Gathered around picnic tables in the outdoor learning space at Spring Valley Elementary School with their PowerPoint presentations loaded onto their laptops, Yetta Williams' fourth-grade students shared the results of their food insecurity research projects with guests.
Growing a Community Mindset
Williams, a 2021-22 Kenan Fellow, organized the student showcase on June 6, 2022 to give her students a platform to discuss what they have learned about local agricultural practices and their solutions for eliminating hunger.
Guests, which included fellow students, educators, and community leaders, were invited to hear each student give a roundtable presentation on their work. The presentations were followed by a tour of the school garden where students are growing lettuce, beets, herbs, and a variety of other fruits and vegetables.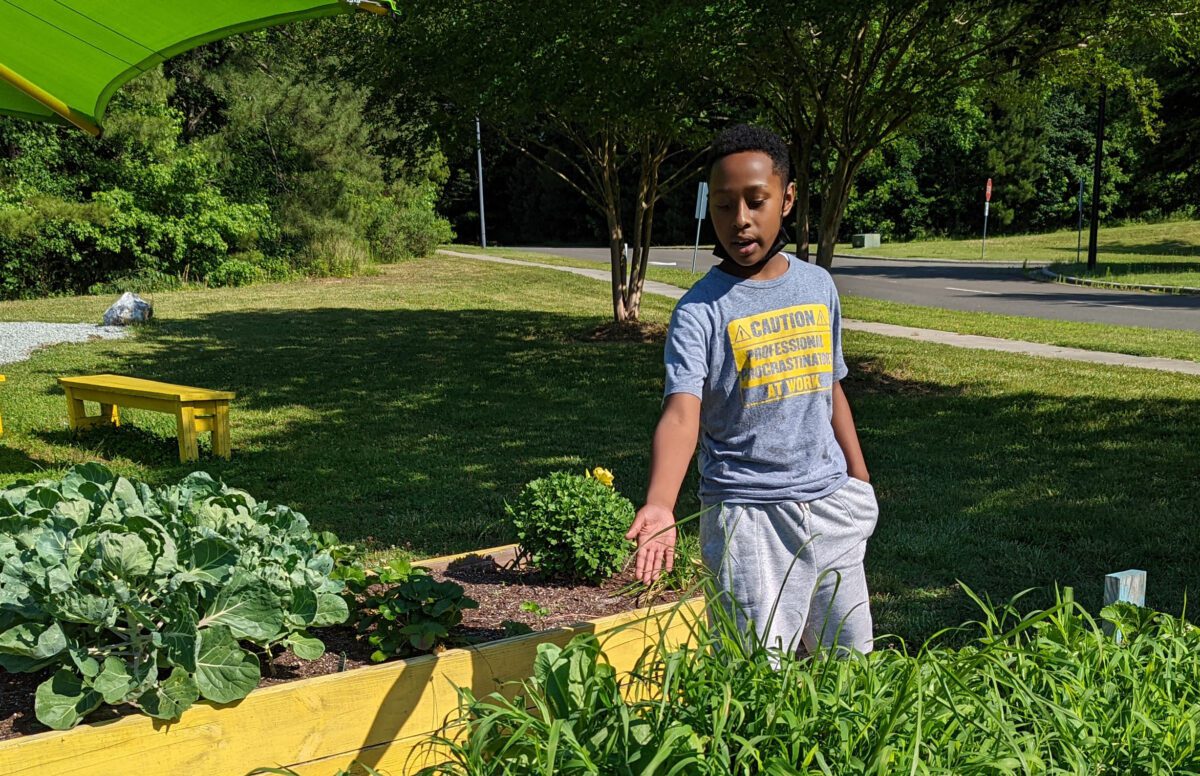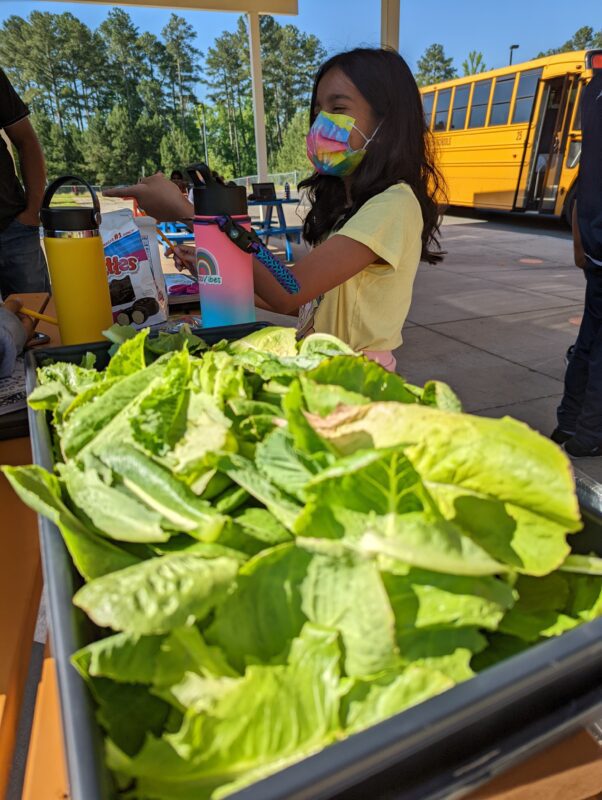 The students' projects ranged from operating farm stands at no or low costs for families living in poverty to programs for encouraging people to make healthier food choices. As part of the lesson, students did research on food deserts, nutrition, and gardening. They put their knowledge to work by developing a food plan and planting vegetables and herbs in the school garden for their community.
Addressing Local Needs
Fourth-grader Mikayla's food plan aims to provide better access to fresh food for homeless families. What she liked most about doing the project, she said, was researching the topic of food insecurity and learning how to grow her own food.
"I knew a little bit about starting a garden before doing this project, but I didn't know as much as I know now," she said. "I learned a lot about harvesting vegetables."
One of her classmates, Roy, echoed her sentiments. Roy said he knew that plants needed water to grow but he didn't know how to care for or how to pick fruits and vegetables prior to starting the lesson.
He now feels much more knowledgeable about how to tend a garden. "I liked doing this project a little bit more than other school projects because it was a fun experience and I got to help people in need," he said.
Diversity in Leadership
The lesson grew out of Williams' Kenan fellowship, Diversity in Leadership, with the Burroughs Wellcome Fund, No Kid Hungry NC, and Village of Wisdom. The goal of the Diversity in Teacher Leadership Fellowship is to add more voices, skillsets, and talents to the growing chorus of educational leaders who are focused on creating equitable educational outcomes for all students in North Carolina.
Williams is one of six Kenan Fellows who have developed resources and spearheaded programs to address issues of equity and diversity. Through the fellowship, Williams explored North Carolina food and culture, and ways to address inequity and achievement gaps. 
Additionally, Williams participated in the 2021 Mountains to the Sea Institute, a special cross-curricular professional development series on food and the environment in North Carolina by the Kenan Fellows Program along with the EPA and Durham Public Schools (DPS).
The program, which was supported by a Merck Foundation grant, gave DPS educators a statewide perspective on environmental and agricultural issues while examining these same issues in Durham.
Both programs inspired Williams to create and implement her lesson on food sustainability for elementary students.
"I am using my classroom as a space to eliminate hunger and inequity by introducing students to complex socioeconomic concepts such as food deserts through innovative hands-on STEM lessons," Williams said. "I grew up in a small agricultural town and growing food was a fundamental part of my upbringing. The Kenan Fellows Program and the Mountains to the Sea Institute brought me back to my roots and allowed me to share my passion for agriculture with my students."