By Beverly Owens, 2021-22 Kenan Fellow
SANDY RIDGE, N.C.⸺Lisa Atkins, an art teacher at Sandy Ridge Elementary School, got a behind-the-scenes look at the North Carolina beef industry this summer.
"As a teacher, I can appreciate the math, science, and communication skills necessary in agriculture," Atkins says. "Whatever you're good at, whatever you're interested in, there's a job for you on a farm!"
This statement reflects one of Atkins' major takeaways from her experience interning with the Stokes County Farm Bureau. The experience allowed Atkins to connect with local farms and ag businesses in Stokes County. She even traveled to a cattle operation in Oklahoma where she got to see the entire process from feed production to livestock sales and feedlots to meat packaging plants.
"I gained a real appreciation for farmers and their hard work and dedication. It also helped me understand the food chain and the interdependence involved," she says. "Now I am focusing on creating an Ag Mag and trying to translate what I've learned into information that students can use and relate to."
From Farm to Classroom
Agriculture and food production are leading industries in North Carolina. Atkins is a 2022-23 Kenan Fellow. The NC Farm Bureau Federation, Stokes County Farm Bureau and Ag in the Classroom sponsored her fellowship.
The NC Farm Bureau Federation is a longtime supporter of the Kenan Fellows Program, and several Fellows have created Ag Mags highlighting North Carolina agricultural products including peanuts, Christmas trees and pork.
Gaining Insider Knowledge in NC Beef
Atkins connected with many local farms and businesses. One such farmer is Ryan Clark, from Clark Family Farms, which services Western Rockingham and Eastern Stokes counties. Clark shared his expertise with Atkins regarding poultry, pork, beef, and other farm products.
She also toured several other area farms to learn the many facets that support the cattle industry in North Carolina. At Performance Livestock & Feed Co. in Lawsonville, she met with Mark Pendleton to learn about cattle operations.
"I love the way the Kenan Fellows Program fosters partnerships between schools and businesses because these relationships are really symbiotic. We are preparing the future workforce and future consumers. That is why it is so important to build these relationships."

Lisa Atkins
Visiting Mitchell's Meat Processing in Walnut Cove gave her background information about the farm-to-table pipeline. Atkins was also a special guest at Farm Bureau's policy review in Raleigh, and she toured an NC State research station to learn about veterinary science.
"With all of my visits, I've just been so impressed at the dedication of the farmers," she says. "They genuinely care about the animals, their jobs, and the land. I'm also impressed by the level of complexity⸺so much goes on behind the scenes."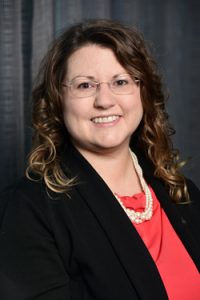 ABOUT THE AUTHOR
Beverly Owens, a 2021-22 Kenan Fellow, teaches 11th-grade chemistry at Cleveland Early College High School in Cleveland County Schools. She is a recipient of the 2019 Burroughs Wellcome Fund Career Award for Science and Mathematics Teachers, a Fulbright Scholar, a Nat Geo Certified Educator and a North Carolina Earth Science Teacher of the Year.