RALEIGH, N.C.—The Kenan Fellows Program for Teacher Leadership at N.C. State University, in partnership with SparkNC, is proud to announce the selection of four outstanding educators as Kenan Fellows for the 2023-24 cohort. They are among the 38 Kenan Fellows statewide who have been chosen for this prestigious honor.
The four selected Kenan Fellows will design learning experiences that students across a network of 18 NC districts can access to expand their exposure to promising careers in technology. Through immersive experiences with industry partners who are driving growth in local economies through technology, these educators will gain insights and expertise in the necessary skills students will need to prepare for careers in high-tech. They will also receive customized professional development tailored to the needs of SparkNC and will have the opportunity to be part of an inter-district network, fostering collaboration and innovation among educators.
"We are delighted to work with the Kenan Fellows Program and these four distinguished educators to support our work preparing students for futures in tech," said Joe Ableidinger, Executive Director of SparkNC. "The SparkNC Kenan Fellows will play an integral role in our design of immersive, engaging learning experiences that expand industry-relevant, competency-based opportunities for North Carolina students."
The SparkNC Kenan Fellows are: 
Kimberly MacDonald, Wake STEM Early College High School, Wake County Public Schools 
Angela Ramey, China Grove Middle School, Rowan-Salisbury Schools
Michelle Toepfer, JN Fries Magnet School, Cabarrus County Schools
Claudja Dwight, Brown Summit Middle School, Guilford County Schools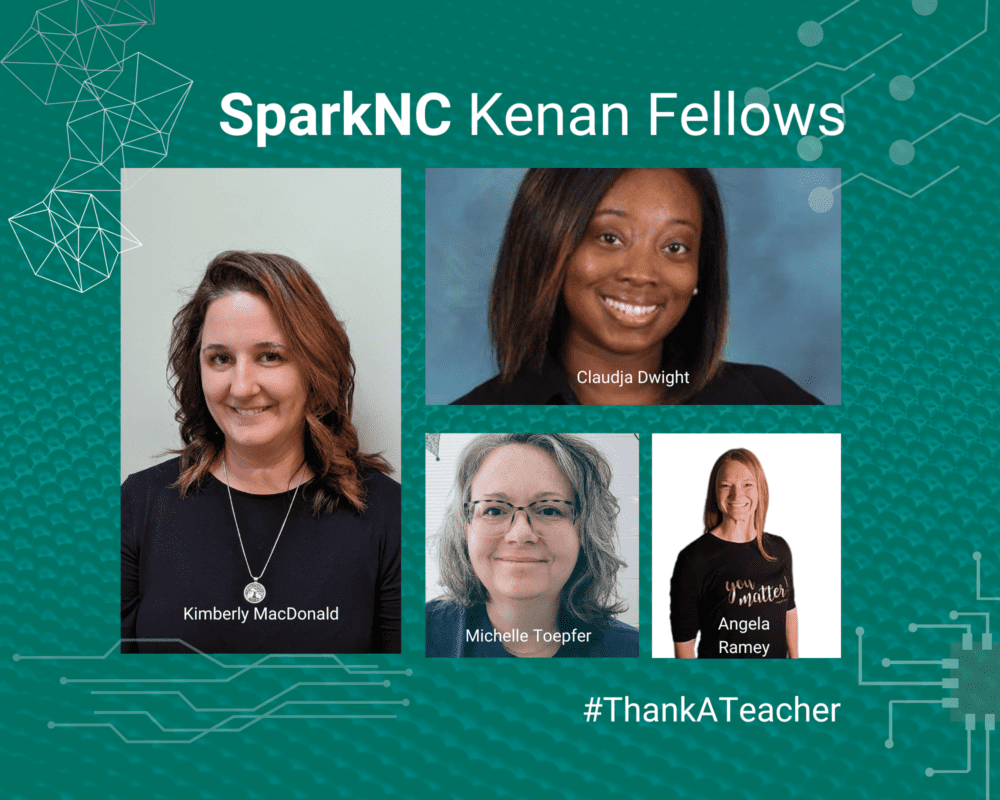 "We are grateful to SparkNC for providing K-12 educators with this opportunity to further their professional growth and create meaningful learning experiences for students in North Carolina," said Vance Kite, director of the Kenan Fellows Program for Teacher Leadership. "Their fellowships will not only help students connect to future careers in tech but also build the necessary skills to compete and excel in those jobs."
###
About SparkNC
SparkNC is a transformative new initiative that aims to accelerate student progress along pathways toward careers in high-tech fields such as artificial intelligence, machine learning, software development, data analytics, computer systems engineering, and cybersecurity. SparkNC has launched as an initiative of The Innovation Project, a network of 18 innovative North Carolina districts. Participating districts will reimagine teaching and learning in ways that help students discover, experience, and navigate these pathways. The initiative has a particular emphasis on students disproportionately impacted by COVID and those who have been historically excluded from careers in technology. After incubating within The Innovation Project in 2022-23 and 2023-24, SparkNC will transition to a standalone nonprofit organization to serve learners throughout North Carolina.
About the Kenan Fellows Program for Teacher Leadership:
The Kenan Fellows Program for Teacher Leadership (KFP) is a K-12 education initiative of the Kenan Institute for Engineering, Technology & Science at N.C. State University. The program aims to enhance the teaching profession by providing educators from all disciplines with immersive experiences in STEM industries and research settings, fostering innovation and excellence in education across North Carolina.