DURHAM, N.C.—Joy Mason, a 2023-24 Kenan Fellow, is leading an initiative that integrates complex concepts of climate science and meteorology into first through third-grade curricula in her classroom at George Watts Montessori School in Durham Public Schools.
Drawing inspiration from her immersive summer internship with the State Climate Office of North Carolina, Mason is crafting innovative lessons aimed at engaging and educating Montessori students about meteorology and weather forecasting. Through these lessons, students will create tools to measure changes in their local climate and keep a journal to document their observations. Students will also participate in a citizen science project to help gather data for the National Weather Service through the Community Collaborative Rain, Hail, and Snow Network (CoCoRaHS).
Connecting Meteorology to the Montessori Classroom
"I'm really excited to connect what I have learned during my internship with my passion for Montessori," said Mason, who has been teaching for 10 years. "The Kenan Fellows Program has been an amazing opportunity to step outside of my school and even my local community. I have made amazing connections with the State Climate Office and I am looking forward to their continued support."
The Kenan Fellows Program for Teacher Leadership at N.C. State University connects teachers and industry professionals to create enriched classroom experiences for students. This summer, Mason collaborated with her mentor, Rebecca Ward, from the State Climate Office of North Carolina on a number of projects related to the Climate Office's initiatives, as well as Mason's work with her students.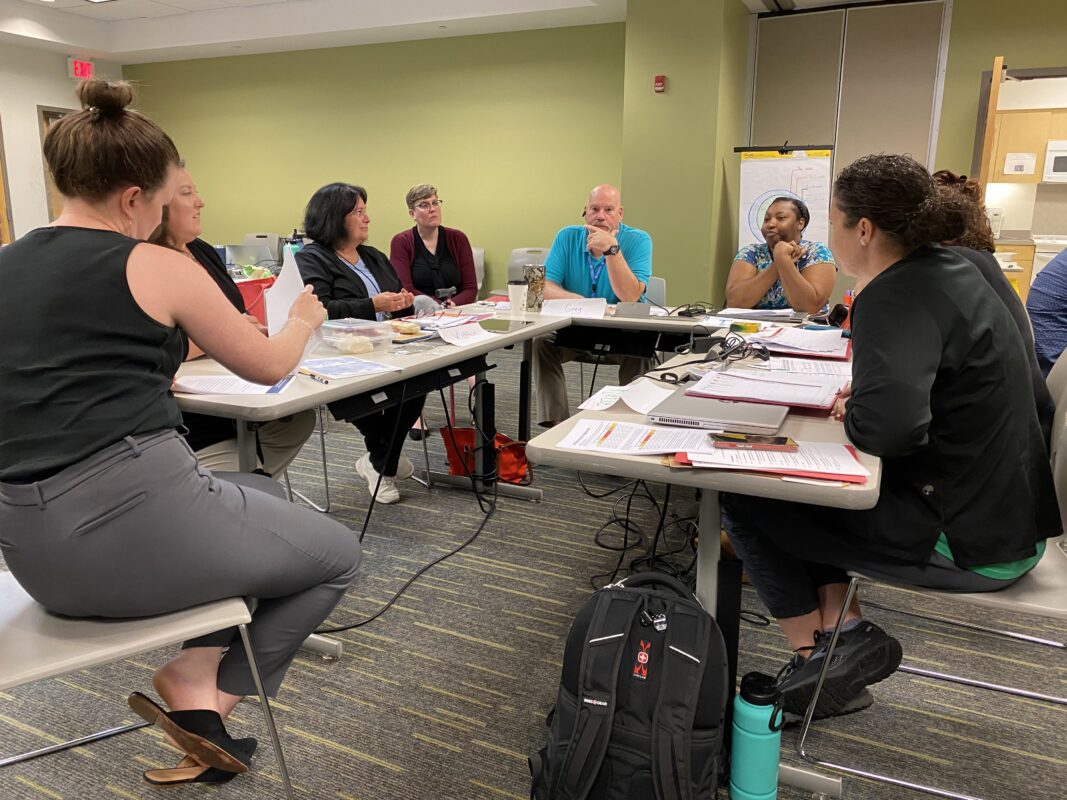 Nurturing a Collaborative Partnership
During periods of extreme heat and high summer temperatures, local governments and municipalities are responsible for mitigating heat-related problems. The State Climate Office has partnered with state government to develop a model for a heat management procedure that local governments can adopt to prepare for and address heat-related issues. Joy helped introduce the model to local government officials as part of her internship.
"From day one, Joy was joining meetings to help plan a workshop with pilot counties, and diving into research on heat impacts (like the symptoms of heat-related illnesses), ways to adapt to it (such as what are cooling centers, or ways to stay cool), and long-term strategies to increase local resilience to heat (like painting the tops of school buses white or installing green roofs)," Ward, assistant state climatologist, explained. "Joy helped to both track down information and also synthesize it in a way that would be easy for local governments to understand and apply in their jurisdictions. Joy also had a hand in helping finalize the agenda for the workshop, brainstorming ways to evaluate the activities, and on the day of the workshop, helped with setup and joined in activities."
Fieldwork and Practical Insights
Mason also delved into hands-on experiences including fieldwork with the Environment and Climate Observing Network (ECONet) team. Engaging with sensors, calibrating equipment, and even witnessing tower maintenance she was able to elevate her understanding of the practical facets of climate research.
"I went to sites in Chapel Hill and Raleigh where we replaced sensors and cleaned and calibrated the equipment. One of the wind speed sensors wasn't functioning properly so I had the unexpected opportunity to help drop the tower (they are on a hinge) and observe some troubleshooting and additional repairs," Mason recalled. "I'm so thankful for how Rebecca viewed me as a professional right away. We collaborated on ways to support educators and what types of lessons and work would support them in their classrooms. She listened to my ideas and took my feedback. Even down to the last day of my internship, we were brainstorming ideas."
A Symbiotic Relationship
The partnership between Mason and Ward's team proved mutually enriching. Ward said it gave her team a fresh perspective on their work. "Just hearing how Joy teaches about climate and environmental topics helped us think about new approaches we could use in our education and outreach," she said. "It's always enriching to have multiple perspectives, and we saw that this summer by having an expert in education join our team. It gave us an appreciation for how we could engage more fully with STEM education through our unique content area of climate and climate change."
Ward underscored the partnership's symbiotic nature, outlining the benefits for educators and industries. "Kenan Fellows gain an understanding of how industries 'work' so they can bring that new knowledge to their students," Ward emphasized. "At the same time, the industry gains an appreciation for how teachers' expertise and practices introduce new content into the classroom in ways their students will be able to understand and engage with."
A Network of Professional Growth
For Mason, the Kenan Fellows Program has also fostered connections within a larger network of K-12 public and charter school educators. As one of 38 Kenan Fellows in North Carolina this year, she joined a community of nearly 600 statewide alumni.
"The teachers in the Kenan Fellows Program have helped me to see that I am a professional and I do have valuable insight and experience. The Fellows in my cohort have pushed me to think about what I really want as a teacher and where I want my path to lead me," Mason reflected. "We have had some heartfelt conversations that have required deep introspection. I have been learning how to speak up and be an advocate for my students, for myself, and my school."