By Beverly Owens, Kenan Fellow
FOREST, CITY, N.C.⸺From conservation projects to lessons in scientific research, Meta Kenan Fellows in Western North Carolina are leading community-centered programs with long-lasting impacts on K-12 STEM education.
Since 2020, Meta has sponsored eight Kenan Fellows in communities surrounding the Forest City Data Center. Through this partnership, Kenan Fellows have embarked on enriching internships with mentor organizations like Coats, Biltmore Farms, and Eaton. These companies have provided educators with industry-based learning experiences that impact their classrooms and the local community.
The Kenan Fellows Program for Teacher Leadership (KFP) at N.C. State University offers teachers a chance to get an insider look into local industries through the three-week summer immersion program. These teachers gain insights from industry mentors, helping them guide their students toward promising career pathways within the community.
Read on to learn how Meta's investment in teachers has helped advance K-12 workforce education in Western North Carolina.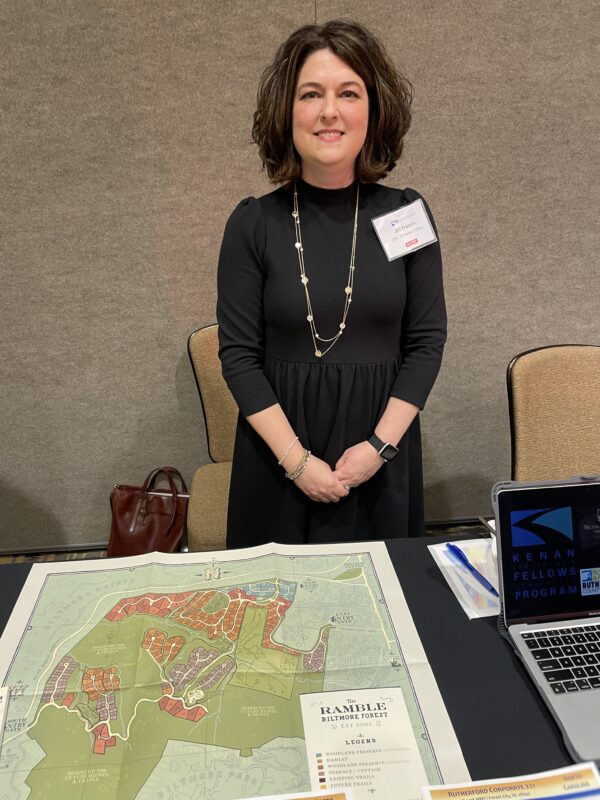 Leslie Rhinehart: Inspiring STEM Learning
In 2020-21, Leslie Rhinehart, a STEM teacher at Polk County Middle School, had the opportunity to intern with Eaton. Inspired by her internship, Rhinehart created a series of chemistry-themed Project-Based Learning units for students in grades 10-12.
Rhinehart's KFP journey continued after the internship, participating in KFP programs like Mountains to Sea Scholars to deepen her understanding of North Carolina's natural resources and community-based educational opportunities.
"I feel like my Kenan Fellows Program experience helped advance my career, increased my network across the state, and gave me a network of amazing people who are always willing to help and give aid when asked," Rhinehart stated.
In 2023, Rhinehart received the prestigious Burroughs Wellcome Fund Career Award for STEM Teachers (CAST). The award will enable her to create a lending library of STEM kits. This resource will empower teachers across Polk County, who can access materials through training videos Rhinehart will develop, enriching STEM education throughout the region.
Andrea Walter: Cultivating Sustainability
Also in 2020, Andrea Walter, a 5th-grade science teacher at Polk Central Elementary School, completed her internship with Biltmore Farms. Walter guided her students in learning about environmentally and socially sustainable communities connected to her summer learning experience at Biltmore. Her students learned about infrastructure, building materials, and historic preservation to produce a scale model of sustainable communities.
Following her formal fellowship year, Walter engaged her students in a year-long effort to restore Polk Central's Nature Trail. The project involved students in activities including picking up trash, clearing invasive plants, and creating informational signs.
Walter's collaborative approach extended to her colleagues and the local community, enriching the trail experience with the availability of digital information accessible through Google Maps, covering topics like trail safety, local wildlife, ecosystems, and history.
Walter's fellowship helped her grow as an educator and allowed her to give back to the community by becoming a Constructive Learning Design coach. She introduced other educators to Project-Based Learning related to local issues in Western North Carolina.
"My Kenan fellowship provided me with the tools and connections I needed to expand my impact," Walter stated.
Jill Francis: Bridging Scientific Research and Secondary Education
In 2021-22, Jill Francis, a high school instructional coach in Rutherford County, interned with Biltmore Farms. Her fellowship allowed her to explore sustainability, hospitality, environmental connections, and career pathways.
After her fellowship year, Francis worked with Dr. Jay Zimmer, an assistant professor of Biology at Gardner-Webb University, to lead the 2023 Stonecutter Science Academy. This program exposed students to the practical applications of STEM, including crime scene investigation and forensic anthropology. Local resources, such as Gardner-Webb University, Rutherford Health System, and Cohesion Phenomics, played a crucial role in connecting science content with real-world applications
"The professional development I experienced through the Kenan Fellows Program inspired me to seek opportunities to support other teachers and students beyond my own classroom," Francis stated. "I also formed personal connections with teacher leaders and community partners in my region and across the state."
In 2020, a year before she became a Kenan Fellow, Jill Francis was a recipient of the Presidential Award for Excellence in Mathematics and Science Teaching, a national honor for STEM educators.
Renata Crawley: Connecting STEM and Community
In 2021-22, Renata Crawley, a teacher in McDowell County, completed her KFP internship with Coats. Her experience allowed her to understand the intricacies of thread production and its various applications. She translated this knowledge into a lesson for 5th-grade students to explore friction, balance, kinetic, and potential energy.
As a 2019 Burroughs Wellcome Fund CAST Award recipient, Crawley leveraged her CAST Award to expand her KFP experience by connecting community resources with scientific exploration. She embarked on journeys to Costa Rica, Kentucky, and the American Canyonlands, gaining firsthand knowledge in geology, landforms, and conservation. These experiences translated into valuable classroom content.
Crawley's commitment to community engagement extended further as she became a STEMwork Scholar and a STEMwork Facilitator for McDowell County, a KFP initiative. Her expertise in Project-Based Learning has led to numerous activities benefiting students, schools, and the community. She secured grants to provide hands-on experiences, including launching a traveling STEM van, which brings STEM activities to elementary schools throughout McDowell County.
In reflecting on her KFP experience, Crawley shared, "My confidence grew as an educator because I networked with other teachers across the state, and I learned firsthand how industries operate. That allowed me to create real-world connections with my students and the community."
ABOUT THE AUTHOR
Beverly Owens, a 2021-22 Kenan Fellow, teaches 11th-grade chemistry at Cleveland Early College High School in Cleveland County Schools. She received the 2019 Burroughs Wellcome Fund Career Award for Science and Mathematics Teachers, a Fulbright Scholar, a Nat Geo Certified Educator, and a North Carolina Earth Science Teacher of the Year.