RALEIGH, N.C.⸺Eight STEPs4GROWTH Kenan Fellows and one Duke Energy Kenan Fellow are developing clean energy-focused curricula, programming, and resources. The Kenan Fellows Program for Teacher Leadership at N.C. State University has received a grant from N.C. A&T State University's STEPs4GROWTH clean energy workforce training program to help advance clean energy education in North Carolina schools. Read on to learn about their work.
Savannah Brown: Future Careers in Offshore Wind Energy
Savannah Brown, a science teacher at Hunter's Creek Middle School in Onslow County Schools, completed her internship at Carteret Community College, where she learned about offshore wind energy. Brown gained insights into the future of green energy in North Carolina's coastal communities and learned about regional career pathways for students in the clean energy sector.
As part of her fellowship project, she surveyed her middle school students to identify gaps in their knowledge about green energy jobs. She is now developing a Project-Based Learning unit that enables students to explore different roles required to build a windmill. Students will then construct small-scale windmills and collect data to evaluate the windmills' performance.
Brown emphasized, "This opportunity has allowed me to make connections between the work that I am doing within my classroom and the direct effect that it has on my community."
Tempestt Harrison: Creating Resources for Clean Energy Job Seekers
Tempestt Harrison, an educator at Mallard Creek High School in Charlotte-Mecklenburg Schools, interned at Bosch Rexroth. Her fellowship project aligns with Bosch's objectives to equip students with tools to build financially promising futures. Bosch has already established a Robotics program at Olympic High School, and through Harrison's project, more opportunities will become accessible to middle and high schools in her area.
Harrison is working with a marketing representative at Bosch to develop a hiring resource webpage for the company that includes information about apprenticeships, employee spotlights, and details of workforce skills needed for career success. A QR code for the website will be shared with schools across her district.
Matthew Yaeger: Marine Science and Wind Energy
During his time with the N.C. Coastal Federation, Matthew Yaeger explored the organization's efforts to conserve coastal ecosystems. Yaeger teaches at Topsail High School in Pender County Schools. He is transferring what learned from his internship experience to bolster his lessons on marine environments.
He is also developing lessons centered around offshore wind development. The lessons will teach the advantages and disadvantages of various energy resources, shed light on the reasons behind the development of this infrastructure in North Carolina, and highlight the potential job opportunities associated with offshore wind projects.
Reflecting on the experience, he expressed, "It has been rejuvenating as an educator, enlightening as a science nerd, and incredibly engaging as a local stakeholder. I want to share everything I've experienced with my classes and I think they will really enjoy learning about their local area and how they can make positive impacts."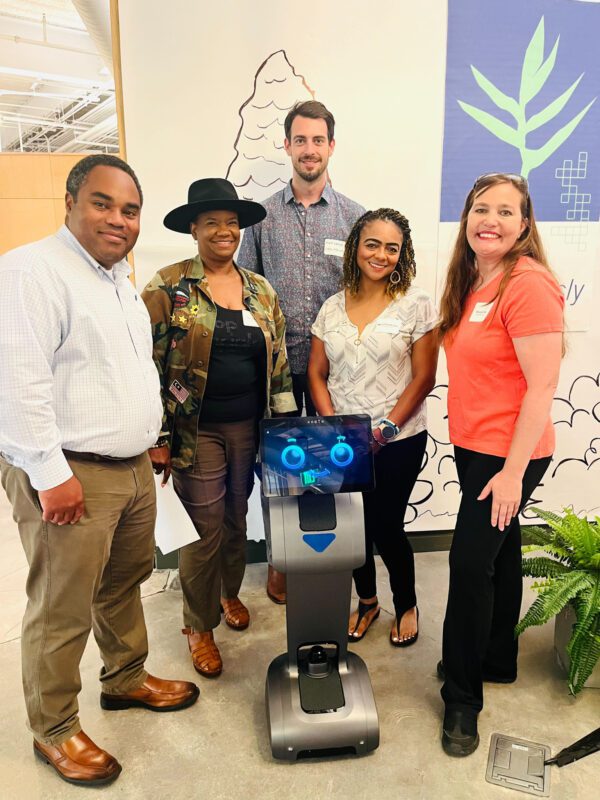 Wyounda Horton (STEPs4GROWTH) and Elijah Watson (Duke Energy): Fostering Tomorrow's Clean Energy Workforce
Wyounda Horton and Elijah Watson interned at Siemens Energy. They are collaborating to design a "Shark Tank" competition, where students create Google Slide presentations highlighting a renewable energy job of their choice. Students will research and prepare a three-minute presentation for a panel of judges. The winning teams will visit Siemens Energy, a global leader in energy production, for a day of immersive learning.
Horton teaches at Ranson IB Middle School in Charlotte-Mecklenburg Schools. Her internship at Siemens Energy gave her a behind-the-scenes look into energy production. She grew her knowledge of career opportunities in the energy sector and no longer sees a four-year university degree as the only pathway to success.
Through interactions with employees, from machinists with 25 years of experience to college students in apprenticeship programs and upper management, she learned, "No matter which department you work in or what your job title is, being a part of the team and being willing to learn, soft skills are number one when it comes to an industry like that."
Watson is an educator at Piedmont IB Middle School with Charlotte-Mecklenburg Schools. His internship with Siemens Energy also allowed him to understand the need for collaboration and good communication in a high-pressure corporate event. Overall Watson expressed, "This has been one of the most impactful educational journeys of my career. This experience has renewed my energy to teach and stay in the classroom."
Jason Wade: Enlightening Students on Solar Energy
Jason Wade teaches at Ayden Middle School in Pitt County Schools and is empowering his 8th-grade class with knowledge about clean energy through a solar vehicle Project-Based Learning unit. Wade interned with NENC Career Pathways. His plan involves establishing links between the tasks required to build the solar vehicle and courses available at the local community college. Wade is also creating a flyer detailing college pathways for these courses and career prospects.
The experience opened his eyes to the many jobs emerging in the clean energy sector, and the extent to which companies are dedicated to building their workforce. Jason expressed gratitude to his mentor, Brandi Bragg, who played a pivotal role in his learning experience. "Brandi Bragg was a great mentor. She provided me with tons of articles to supplement my internship as well as gave me several opportunities to be included in important Zoom calls. The most important part of the experience is the connections Brandi helped me make with great educators at the community colleges in our area."
William Prettyman: Illuminating Clean Energy Career Pathways
William Prettyman teaches at Innovation Campus in Martin County Schools. He plans to raise student awareness about the many diverse career opportunities available in the clean energy sector. His campaign will include classroom discussions, providing students with opportunities to explore careers linked to clean energy, and an informational flyer.
Prettyman is leveraging his experience at Martin Community College to shape his fellowship project.
The most eye-opening aspect of his experience is the realization of the abundance of job opportunities in the green energy sector. He stated, "I knew there were career opportunities available but not to this magnitude. The community colleges that I had the opportunity to visit have amazing instructors who provide students with the skills necessary to enter these careers after graduation."
A common theme he observed across all of his visits was the emphasis on soft skills, recognizing that teamwork and communication are vital abilities that all future workers must have. Upon reflection, Prettyman stated, "The best part of this experience was seeing how much my local community college cares about the people in our area and how hard they work to provide opportunities for training and skills development."
Trey Nichols and Shavon Via: Harnessing Clean Energy to Power Greenhouses
Trey Nichols and Shavon Via shared a summer internship experience at Alamance Community College. They are working on a project to teach students about plants and the use of clean energy to power greenhouses.
Nichols teaches at Vienna Elementary in Winston-Salem/Forsyth Schools. Via teaches at Eastlawn Elementary School in Alamance-Burlington Schools. Their project will teach students essential aspects of energy efficiency, renewable energy, and agriculture. Via and Nichols are developing a how-to booklet for teachers and students to guide them through creating their greenhouses with an emphasis on renewable energy and energy efficiency.
Reflecting on her fellowship, Via emphasized, "The most essential part of the experience has been collaborating with others to create a project that will enable our students to see what is in store for their future."
Nichols echoed her sentiments, "This experience has reignited my love for teaching. This program has connected me to so many amazing people."