Our Alumni Spotlight Series showcases how Kenan Fellows make a difference in their schools, districts, and communities. Each profile features an interview with fellowship alumni that highlights their achievements, diverse journeys, and expertise in the field of education.
Kimberly Mawhiney, a 2012-13 Kenan Fellow, is the director of STEM and grants at the Northeast Academy for Aerospace & Advanced Technologies (NEAAAT) in Elizabeth City. With 18 years of experience in education, she has been recognized as the 2011-12 Currituck County Schools Science Teacher of the Year, a 2017 North Carolina Hope Street Group Fellow, a member of the 100kin10 Teacher Forum in 2019, and a 2021 NC Space Education Ambassador.
Earlier this year, Mawhiney was instrumental in helping NEAAAT secure a $500,000 grant from the Golden LEAF Foundation to develop a career center. Mawhiney also belongs to the 2023 cohort of Mountains to Sea Scholars, an initiative of the Kenan Fellows Program for Teacher Leadership focusing on climate change and resiliency.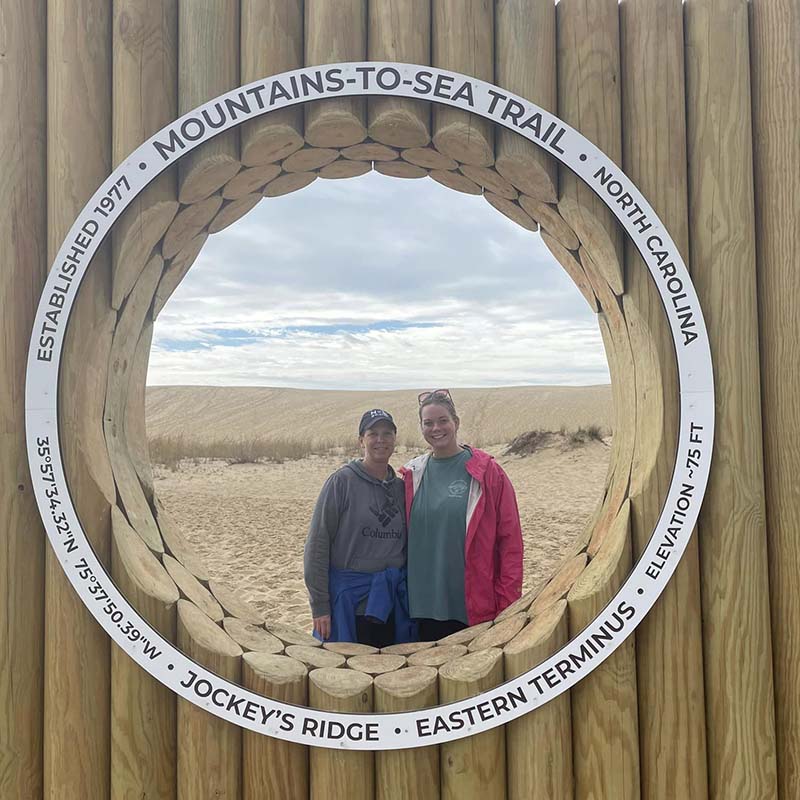 Q: Can you share a moment during your Kenan fellowship that had a profound impact on your teaching philosophy?
I remember a STEM workshop we had during the first full week of our fellowship where we were working together as a team and I realized, "This is how my students should be learning." That moment led me to create a yearly STEM event with my AP chemistry students around Halloween where we would invite elementary students to visit our "haunted lab" to spark their curiosity in STEM.
Q: Can you discuss how the Golden Leaf grant will make a difference in the lives of your students and the broader community?
NEAAAT emerged from the collaborative vision of local business and industry leaders, educators, and elected officials. Their collective goal was to establish a school capable of cultivating a highly qualified workforce in the rural northeast region of North Carolina. NEAAAT's mission is to inspire and prepare students with the skills, knowledge, and attitudes needed to pursue the high-demand jobs and careers of the future.
The school has created pathways leading students to post-secondary degrees or industry credentials and to life-long, sustainable careers focusing on opportunities in the Albemarle area. These pathways include aviation, advanced manufacturing, health science, and computer science.
With the help of Caren Williams, NEAAAT's director of systems and curriculum, we secured the Golden Leaf grant to develop a career center that will house an advanced manufacturing lab, an aviation lab, and a fabrication lab. The Golden Leaf grant is helping fund all of the equipment and some of the construction for the career center.
Q: Could you describe a memorable event from your time as an NC Space Education Ambassador and how it influenced your teaching methods?
We met several individuals at NASA during the NC Space Education Ambassador program. With a NASA/biotechnology class taught at NEAAAT, I explored potential integrations for our program based on my experience. The highlight was attending the NASA Langley Open House with 23 students whom I brought along to volunteer. We toured Langley and participated in hands-on STEM activities, helping over 39,000 people. The students expressed genuine enthusiasm, and I was so proud. Our school is now participating in the "Plant the Moon" project, involving all 100 of our students in the sixth grade through NASA.
Q: Tell us about your experience as a Mountains to the Sea Scholar.
Living along the Outer Banks is wonderful but sometimes we do not fully appreciate the treasures in our backyard. For instance, we walked the trails at Nags Head Woods as part of our Mountains to the Sea experience, and I did not know those trails were there. It has been such an eye-opening experience. After spending time at Jockey's Ridge with Mountains to Sea, I knew we had to take our sixth-grade students there for our Community Learning Day. Just recently, several of our coaches, myself, and one hundred 6th graders learned from rangers there and hiked the dunes. I would not have considered exploring these local natural resources if it were not for the insights I gained through Mountains to Sea.
Q. How has the Kenan Fellows Program added value to your professional journey?
​​My fellowship significantly impacted my teaching approach during my time in the classroom. The desks in my classroom were replaced with collaborative tables and my traditional teaching methods gave way to inquiry-based and hands-on learning. Moreover, the Kenan Fellows network has been an invaluable resource. Fellow alums have helped me to secure resources for my students through industry connections and even supplies for hands-on lessons.
Transitioning from the classroom to my current role, I found unwavering support from the Kenan Fellows Program community. I have received encouragement through phone calls and texts that solidified the notion that "once a Kenan Fellow, always a Kenan Fellow." I will forever be grateful to my Kenan Fellowship for where I am today!