The White House recently announced that Kenan Fellow Carol Swink Wooten (Class of 2006) received the 2008 Presidential Award for Excellence in Mathematics and Science Teaching. Kindergarten through 12th-grade math and science teachers in the United States were eligible for the award. It is the highest honor a teacher can receive for outstanding teaching. Carol was recognized for her contributions to teaching and learning and her ability to help students. Carol has been a fifth grade teacher at Hunter Gifted & Talented Magnet Elementary School since 1998. See the WCPSS story for more information.
Dr. Laura Bottomley, director of K-12 Engineering Outreach Programs at North Carolina State University, has won a Presidential Award for Excellence in Science, Mathematics and Engineering Mentoring.
Dr. Bottomley is a mentor for Class of 2011 Kenan Fellow Justin Osterstrom. Justin is developing elementary school curriculum that will use engineering to teach science and math concepts. More information about this prestigious award is available at the North Carolina State University news site.
"There is no higher calling than furthering the educational advancement of our nation's young people and encouraging and inspiring our next generation of leaders," President Obama said. "These awards represent a heartfelt salute of appreciation to a remarkable group of individuals who have devoted their lives and careers to helping others and in doing so have helped us all."
—
Class of 2011 Kenan Fellow Aebeyo Abraha studied in South Africa with Mentor Solomon Bililign from NC A&T State University. Aebeyo will use research from the Africa Array Geophysics field course as groundwork for his curriculum project.
—
Kenan Fellow Rebecca Hite (Class of 2010) received an invitation from the Centers for Disease Control and Prevention's Career Paths to Public Health Program. She participated in the 2009 Science Ambassador Program. The selection process was extremely competitive as applications were received from great teachers across the country. Rebecca will develop public health science-based lesson plans aligned to the National Science Education Standards.
Congratulations to Rebecca on gaining valuable experience that will make her Kenan Fellows project even more exciting and relevant.
—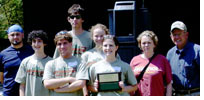 Kenan Fellows Chad Ogren (Class of 2008) and Debbie Massengill (Class of 2004) coached a team of students from Enloe High School for the NC Envirothon.
The Envirothon is known as the "natural challenge" where five-member teams compete in five natural resource areas: soils and land use, aquatic ecology, forestry, wildlife, and current environmental issues.
"Studying for the Envirothon is different, you're outside, digging in the dirt, learning about trees, wildlife tracks and scat, and wading streams," said Sheila Jones, environmental education specialist with Wake Soil and Water Conservation District. "This is truly hands-on learning and the way many students learn best."
The Enloe team, sponsored by the Wake Soil & Water Conservation District, captured 3rd Place. North Carolina will host the 2009 Canon North American Envirothon August 2-8 at UNC-Asheville for the best teams from 50 U.S. states and eight Canadian provinces.