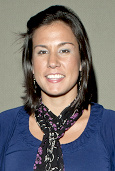 Sarah Kaneko spent the summer working with bugs. As a Class of 2012 Kenan Fellow, Kaneko learned about cutting-edge insect research and worked closely with faculty and staff from NC State University's Golden LEAF Biomanufacturing Training and Education Center. Through her hands-on lab work with mentor Dr. Allen Cohen, director of Insect Diet and Rearing, LLC and adjunct professor at NC State University, she translated what she did in the lab into relevant information, ready for classroom use with her ninth grade students at C.E. Jordan High School.
For her work, Kaneko was honored on November 5 with the 2010 Outstanding High School Teacher award from the North Carolina Entomological Society (NCES). "Ms. Kaneko stood out in the selection process because of her initiative to develop new curriculum through her partnership with Dr. Cohen," said NCES Secretary Dr. Hannah Burrack. "Her in-depth lessons are an example of the type of hands-on curriculum that raises awareness of current topics in entomology."
"I would not have received this honor if I had not been a Kenan Fellow," Kaneko said. "The Kenan Fellows Program enabled me to do the summer research that led to creation of the curriculum."
Ms. Kaneko is currently piloting her lesson plans with her honors biology students. "The lessons themselves take a long time, as we are rearing organisms," she said. "The projects will run through January; then, we will continue keeping up with our flies and use them for genetics study in the spring semester." Kaneko plans to share the results of the pilot project with other teachers at C.E. Jordan High School through a workshop she is leading in the spring. "The other teachers in my department are interested in learning more about the subject and trying the plans in their own classrooms," she said.
The lesson plans that Kaneko developed are inquiry-based plans that help students further their understanding of some of the major concepts in biology. Students will use diet formulation for insect growth and rearing to connect with experimental set up and design, understanding how to test for carbs, proteins and lipids, and analyzing/predicting population growth curves. Teachers will receive all the resources they need to conduct the labs that they learn about from Kaneko's workshop.
Since 1956, the North Carolina Entomological Society has promoted the professional development of students in the entomology discipline. Through travel grants, industry sponsorships, outreach programs and awards like the one Ms. Kaneko received, the society continues its commitment to science education through entomological accomplishment. For more information about the professional society, visit http://cipm.ncsu.edu/ent/ncentsoc/homepage.htm.