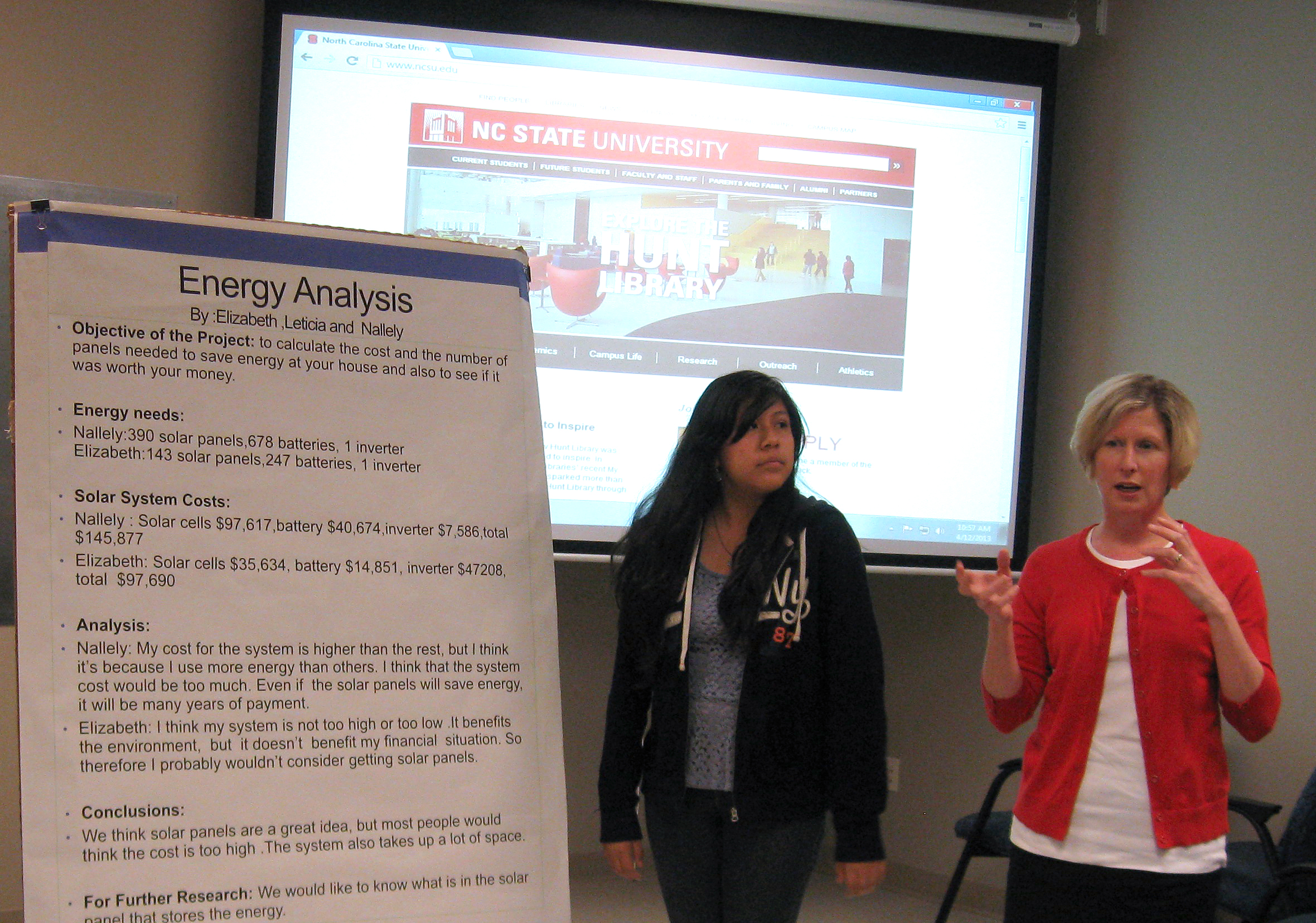 BURLINGTON, NC ─ Melaine Rickard, a STEM teacher at Turrentine Middle School, has created new courses for 6-8th graders that bring the engineering design process to life for students.
Ms. Rickard, a 2011 Kenan Fellow, began teaching the courses during the 2012-13 school year. Before she was able to teach the new courses, Ms. Rickard wrote a proposal to demonstrate their connection to Common Core, science, technology, and national engineering standards. Once her principal approved her plan, she sought support from the district office.
Because of her efforts, students at her school now have the chance to go through the sequence of courses for three years and regularly create projects using the engineering design process.
District Wide Interest
Since launching the courses, other schools in the district have taken an interest in offering similar electives. Ms. Rickard opens her classroom to teachers to observe. Her courses have caught the attention of funders and she has received grants for equipment and field trips from Target and the Burroughs-Wellcome Fund.
In April of 2013, she used this funding for a special project for the 8th grade class. Students worked in small groups to research powering a home with solar panels. The students investigated home appliances and technology, solar panel output and storage of charge. They presented their findings on research posters.
Ms. Rickard brought them to Raleigh to present their work to a panel of "critical friends" (FREEDM Systems Center graduate students). The field trip also gave the 8th grade students the opportunity to tour the National Science Foundation-funded engineering research laboratory at N.C. State University.
"We take what they learned and we combine that with the engineering principles of solving problems and we move into creating a product to solve a problem," Ms. Rickard said. "Not only do they create a solution, but they also have to write about it, speak about it, and persuade the public about their product."
The Engineering Connection
Ms. Rickard began writing lessons and collecting ideas for engineering curriculum as a participant in the Research Experience for Teachers (RET) program of the FREEDM Center at N.C. State. She partnered as an RET teacher for one year, and then was the Kenan Fellow for the FREEDM Center.
Her innovative STEM courses have been featured in the Burlington Times News newspaper. Read about her lesson on prosthetic limbs here.
In February 2013, she won the inaugural Alamance-Burlington Schools Excellent Educator Award.
*Pictured Melaine Rickard (right) and her students presented to graduate students at the FREEDM Systems Center at N.C. State University.