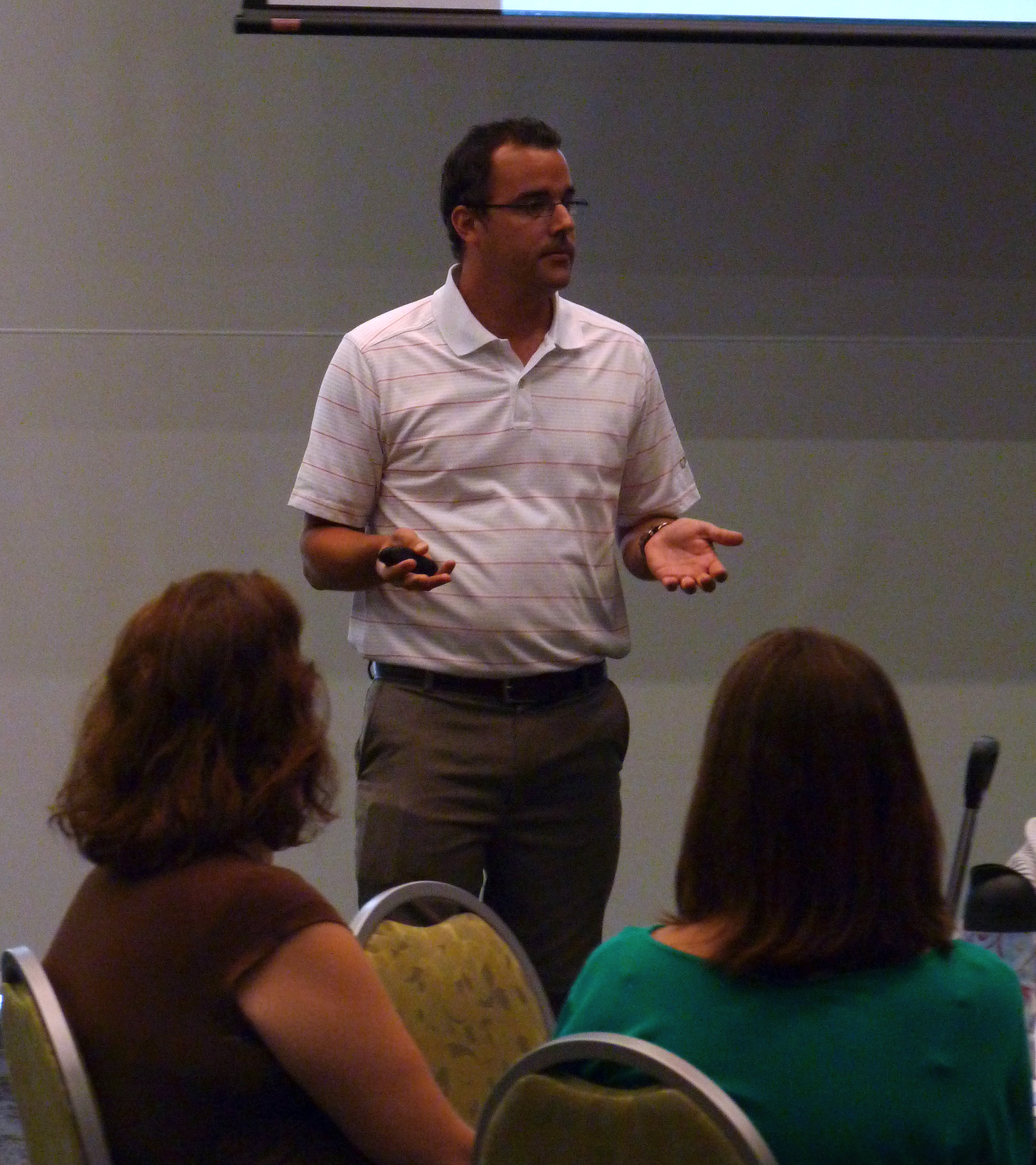 RALEIGH ─ Kenan Fellows Alumni helped provide three days of professional enrichment to a group of 49 teachers currently going through the program.
The teachers, who make up the newest cohort of 2013-14 Fellows, traveled from every region of the state to attend the second installment of professional development offered by the Kenan Fellows Program on July 22-24, 2013.
Passing the Torch
Kenan Fellows Alumni Justin Osterstrom, Paul Cancellieri, Jasmine Hart, Amy Bradley and Vance Kite delivered the latest teaching tools and resources to the 2013-14 Fellows over the three days. The sessions were at the James B. Hunt Jr. Library on NC State University's Centennial Campus.
Lenovo's Sam Morris introduced Fellows to cutting-edge apps for education and TJ Wolfe of LearnNC discussed the virtual learning landscape. Lenovo serves as the technology sponsor for the Kenan Fellows Program.
Mark Benson, President of the William R. Kenan Jr. Charitable Trust, and Ruben G. Carbonell, Director of the Kenan Institute for Engineering, Technology & Science also spoke to the Fellows.
Growing Network
In addition to gaining hands-on work experience during the summer in places of industry and higher education, Kenan Fellows are supported with a series of three separate workshops to help them transfer their summer research back to their schools. The final session of professional development for this cohort will be in October as the Fellows begin to pilot new lesson plans spurred by their real-world work experience.
Finding Inspiration
"I've been inspired by the other 2013-14 Kenan fellows, the presenters of Professional Development Institutes, and my mentor team," said Fellow Joni Allison, a teacher for Henderson County Public Schools who is working on a curriculum project with the NC Department of Public Instruction. "What a joy it has been to have time to learn from teachers at all levels from across the state.  I am awed and inspired by the wealth of knowledge that the Kenan Fellows team has brought together."
Visit the Kenan Fellows Program Facebook page to see more pictures from the learning sessions.
*Photo by Amneris Solano: Alumn Justin Osterstrom gives a presentation on data literacy in the classroom to the 2013-14 Fellows.