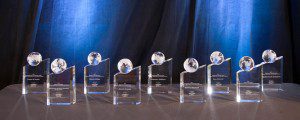 Kenan Fellows won in nearly every category of this year's North Carolina Science, Mathematics, and Technology Education Center (NC SMT) Awards.
Each year, the NC SMT Center recognizes individuals and organizations whose extraordinary contributions to science, mathematics, and technology (SMT) education help advance its mission. The awards were presented April 18, 2015
Seven Kenan Fellows and a Kenan mentor were among the award recipients. Categories include K-8 teacher, 9-16 teacher, informal educator, administrator, student leadership as well as awards that recognize businesses and organizations that support STEM education. Educator and student award recipients receive $1,000.
Winners associated with the Kenan Fellows Program are as follows:
Outstanding Educator

Cindy Bullard
Guilford County Schools
2014-15 Kenan Fellow
Outstanding K-8 Educator
Kirk Kennedy
Duplin County Schools
2012-13 Kenan Fellow
Outstanding 9-16 Educator
Sherry Carpenter
Cape Fear Botanical Garden
2014-15 Kenan Mentor
Outstanding Informal Educator

Burroughs Wellcome Fund Career Award

Tomika Altman-Lewis
2011-12 Kenan Fellow
Durham Public Schools
Jodi Riedel
2008 Kenan Fellow
Wake County Public
School System
John Scarfpin
2012-13 Kenan Fellow
Craven County Schools

NC Science Teachers Association District Outstanding Science Teacher Award

Kalyani Tawade
2013-14 Kenan Fellow
Wake County Public School System
Bradley Rhew
2013-14 Kenan Fellow


Winston-Salem/Forsyth County Schools