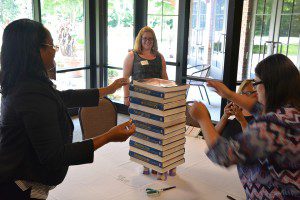 FAYETTEVILLE — The Kenan Fellows Program held its first Professional Advancement Symposium on July 30-31, 2015 at the Cape Fear Botanical Garden in Fayetteville. The two-day event was attended by more than 75 educators from across the Sandhills and Cape Fear regions.
The Symposium focused on interdisciplinary approaches to STEM education and strategies for early career success. It was offered at no cost to participants and provided full access to practitioner-guided content and classroom resources. All but two of the sessions were led by Kenan Fellows from across the state and across cohorts.
This professional learning opportunity for K-12 educators was made possible through the support of a National Science Foundation Robert E. Noyce Master Teaching Fellows grant (0934658) and planning support from partner organizations in the region including the Sandhills Regional Education Consortium.
According to evaluation data, participants said the content was useful and that the presenters provided a good balance between training and application. The average rating for the sessions was 4.5 out of 5. "This symposium has given me so much to take back to my classroom," said one of the participants in our evaluation survey. "I left each day with a new lit fire and a desire to plan and tell others!"
EducationNC captured video of four full sessions. Visit their website, ednc.org to choose your virtual PD.