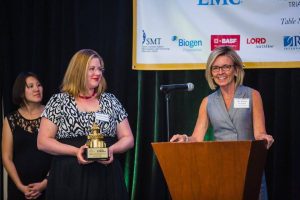 RALEIGH, N.C. ─ NC State's Kenan Fellows Program for Curriculum and Leadership Development has been awarded a STEMmy for its efforts in making STEM education relevant and engaging for all students.
The program recieved a "Golden Gear" award for Higher Education Department of the Year on Wednesday, May 25, 2016 at the first annual STEMmy Awards hosted by US2020 Research Triangle Park (RTP) at the Research Triangle Park Headquarters. Other finalists from this category included departments at UNC-Chapel Hill and N.C. Central University.
US2020, a national initiative started by the White House, is a STEM mentoring outreach program whose mission is to expand STEM mentoring and opportunities for engagement to low income, minority and female students.
"STEM access in education shouldn't and doesn't end with just K–12 schools. We have many higher ed departments dedicated to building the skills for our current and future STEM workforce through their community outreach," said Jin Ellington of Citizen Schools, who introduced the award. "Our esteemed winner has focused on bridging the STEM gap between the private sector and public schools, particularly with some of the most important individuals ─ our educators, our teachers."
Dr. Elaine Franklin, director of the Kenan Fellows Program, along with Kelly Vogel, assistant director for development, accepted the award during the ceremony. "It's a great honor to be recognized by US2020 RTP," Franklin said. "The Kenan Fellows Program identifies and develops Teacher Leaders who become masters at bridging STEM at work with STEM at school but we would not be able to build that bridge without the committed STEM professionals who serve as mentors to the teachers in the program."
Established in 2000 as an initiative of the Kenan Institute for Engineering, Technology & Science at N.C. State University, the Kenan Fellows Program addresses the critical need for high-quality professional development for educators, and is the largest (science, technology, engineering and math) STEM-focused teacher leader fellowship in North Carolina. Approximately 50 outstanding K–12 teachers from across the state are selected annually for this year-long program. Key components are a three-week summer internship with a mentor in a research or applied STEM setting, and 80 hours of professional development that builds leadership capacity and promotes curricular design bridging STEM at work with STEM at school.
The fellowships are made possible through the generous support of the program's many corporate, education and foundation partners. Visit kenanfellows.org to learn more.