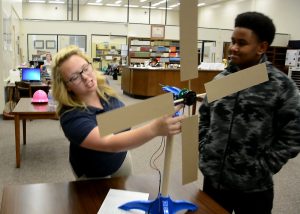 WILLIAMSTON – Sixty ninth graders from Riverside High School showcased their research skills to teachers, community members and their peers during an Energy Expo on May 10, 2016.
The expo was the brainchild of 2015-16 Kenan Fellow Leigh Ann Hudson who asked the students to research an energy topic. The students had the option to create a poster, conduct an experiment or do a presentation on their chosen topic. The idea grew out of Hudson's internship last summer with Edgecombe-Martin EMC through the Kenan Fellows Program.
North Carolina's electric cooperatives and Edgecombe-Martin County EMC supported her fellowship. This is the third year North Carolina's electric cooperatives have helped to support the Kenan Fellows Program. Her mentor, Monica Speight, the communication specialist at Edgecombe-Martin County EMC, arranged her internship so Hudson could explore every department from member services to accounting. Hudson rode with linemen and observed as they repaired an underground line and set new poles for service. She toured a nuclear power plant and a gas peaking plant, visited a solar farm and went to nearly every substation in the service area.
"My depth of knowledge when it came to energy was fairly limited before my internship. Once I realized all the different topics that fell under energy, I thought it was important for my students to learn about it as well." said Hudson, who teaches ninth-grade earth and environmental science at Riverside High School. "It was a student-driven project because I allowed them to choose which topics they wanted to research."
The students worked in groups to do the research. Topics included nuclear power, coal power, and renewable energy sources such as hydro, wind and solar. Students also researched consumer information and utility information topics. Visitors at the Expo moved from station to station at the school's media center to hear about what the students had learned. The Expo was also streamed live via Periscope allowing special guests to view the real-time presentations on Twitter.
Mackenzie Wolfe and her group decided to research electrical safety. Their presentation covered ways to prevent electrical injuries including household safety advice for protecting young children. "Electricity can be very dangerous and we need to know what to do to be safe," MacKenzie said.
She enjoyed doing the research as a group rather than working alone. "It felt good to interact with other people and talk to them," she said.
T.J. Hall echoed her words even though he worked in a separate group. His group used a kit to build a wind turbine. Wind power intrigued him the most of all the topics, he said, because he felt it was the energy source with the least amount of negative effects on the environment.
"This kind of project is more hands on," T.J. said. "It's more intriguing and you get more out of it."