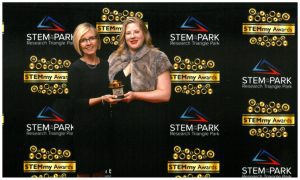 RALEIGH, N.C. ─ The Kenan Fellows Program for Teacher Leadership at NC State University has been named the 2017 STEM Higher Education Department of the Year by STEM in the Park.
This is the second consecutive year the Kenan Fellows Program has been presented this award for its efforts in empowering teachers to develop innovative strategies that make STEM education relevant and engaging for all students. The program recieved a "Golden Gear" award on Wednesday, May 24, 2017 at the second annual STEMmy Awards hosted by STEM in the Park – formerly known as US2020 RTP. Other finalists from this category included NC State's FREEDM Systems Center and the Goodnight Scholars Program as well as a department at NC Central University.
"The Kenan Fellows Program application was one of the strongest we received with a long-standing and powerful impact that reaches across the state," Sarah Council Windsor, PhD, US2020 STEM Outreach Program Manager at The Research Triangle Foundation.
STEM in the Park is a mentoring and outreach program sponsored by the Research Triangle Foundation, and is part of the national effort to match STEM mentors with underrepresented minorities, girls, and low-income students by the year 2020, creating millions of moments of discovery and inspiring the next generation of STEM professionals. The Kenan Fellows Program was recognized again for its STEM outreach efforts to build stronger relationships between K-12 educators and industry leaders, which ultimately strengthens local career pathways for students.
"We are proud to have received this great honor two years in a row," said Elaine Franklin, director of the Kenan Fellows Program. "We are grateful to STEM in the Park for recognizing our commitment to STEM education and for supporting the STEM ecosystem in the Triangle."