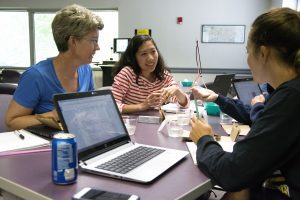 CULLOWHEE – Twenty-seven educators from across the state completed five days of professional development at the Kenan Fellows Program for Teacher Leadership Summer Institute June 19-23 at the Western North Carolina campus of the N.C. Center for the Advancement of Teaching.
The institute brought the 2017-18 Kenan Fellows together for the first time as a group. The Fellows represent a cross-section of disciplines, grade levels and 10 school districts statewide. Educators in the Kenan Fellows Program Alumni Network helped design and lead many of the sessions, which focused on building leadership skills, project-based learning, data literacy, and technology integration.
Christina Melton, an elementary teacher in Charlotte-Mecklenburg Schools, said the Summer Institute was unlike any other professional development workshop she has attended.
"I walked away from every session with at least one thing, and sometimes multiple things that I want to implement in my classroom this fall," Melton said. "It was overwhelming at times but in a good way. Being overwhelmed with so many great ideas gave me this excitement and this high that made me want to be back in my classroom right now."
By the end of the fellowship year, the teachers will have completed 80 hours of professional development that supports them as they complete their summer internships and develop methods for transferring their learning back to the classroom. The Summer Institute is the first of two for the 2017-18 cohort of Kenan Fellows. The Fall Institute in October builds on concepts and strategies introduced in the first.
The Biogen Foundation is the Lead Champion for the institutes. The residential institutes are intended to facilitate networking, relationship building and collaboration among the Fellows. In addition to the formal sessions, the Fellows are encouraged during breaks and in the evenings to have open dialogue with one another and share strategies and resources. This type of informal professional development broadens their professional learning community as they being to build sustained support for one another.
Linda Dion, a high school science teacher in the Wake County Public School System, said getting to share ideas among colleagues was one of the most beneficial aspects of the Summer Institute. EdCamp Kenan Express, which allowed Fellows to choose topics and led their own mini sessions, was among her favorite for this reason.
"During our EdCamp session, my cohort had a wealth of knowledge to share ranging from classroom management to new apps to incorporate into our lessons. It is a distinct privilege to be treated as a knowledgeable professional, and to have training by teachers tailored for teachers," Dion said. "There is always a lesson to be learned from people around us. I am excited to share this type of experiential learning and the strategies we have learned with my students."