Carowinds – An Outdoor Classroom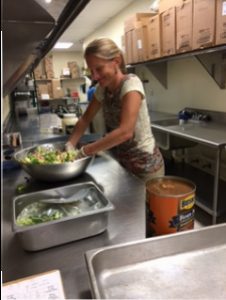 STEM is everywhere at Carowinds. I saw STEM connections in every aspect of the amusement park from touring the campground to riding the world's tallest and fastest roller coaster to shadowing the operations manager.
Because of my Kenan Fellows Program internship this summer at Carowinds, I learned about the NC STEM Attribution Implementation Rubrics. Part of the curriculum entails project-based learning which encompasses key success skills:
Critical thinking/problem solving
Collaboration
Self-management
During my internship, I was able to see a wide range of the park's staff including personnel in sales, marketing, public relations, aquatics, maintenance, and operations departments demonstrating the above key skills. I witnessed many soft skills in action and saw how the content part of STEM is applied in the workplace.
On one occasion, while touring Fury, the park's main attraction, the mechanical maintenance manager gave me background information on how the roller coaster uses magnetic friction. He informed me there is sand in parts of the coaster to help support the track. SCIENCE.
On another day, we stopped at the WindSeeker Swing ride. The operations manager took me inside the operating booth and showed me the computer system that includes a programmable timer and an emergency off switch. TECHNOLOGY.
When talking to the area manager for events and ticketing and then maintenance, they brought me up to speed on Non-Destructive Testing (NDT) and rejection criteria where they take all the rides through this during the off-season to ensure safety. This brought to mind the engineering design process ‒ generate, focus, ideate, and act. ENGINEERING.
I also learned about the Big Belly program, which are smart, solar-powered trash and recycling cans that aim to improve the efficiency of the park services. The operations manager is working on a cost analysis to determine if this is an initiative the park can justify at this time. MATH.
I had the opportunity to sit down with the manager of digital marketing. When I asked him what we could do to better prepare our students for the workplace he said without a doubt "writing." He could not emphasize enough the importance good written and communication skills.
Communication. Communication. Communication. This happens in ALL fields and EVERYWHERE!