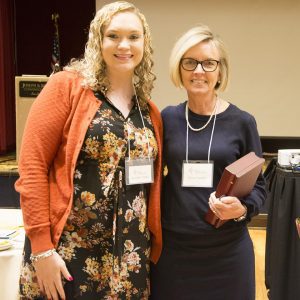 GREENSBORO ― Dr. Elaine Franklin, director of the Kenan Fellows Program for Teacher Leadership, is the 2017 recipient of the Herman and Emma Gatling Award for Outstanding Science Education Leadership. Each year, since 1989, the award has recognized an educator who models high standards and distinguished service in science.
Dr. Franklin was honored on Wednesday, Oct. 18 at the NC Science Leadership Association (NCSLA) Fall Summit at the Koury Convention Center in Greensboro. The Carolina Biological Supply Company sponsors the award which is presented to someone "who has gone above and beyond the requirements of the workplace and provided outstanding leadership and service to science education at the district, regional, and state levels and beyond."
Dr. Franklin is a career educator with years of experience as a teacher, researcher and educational leader. Prior to joining the Kenan Fellows Program for Teacher Leadership in 2013, she served as executive director of the NC Center for the Advancement of Teaching (NCCAT). She is also the former director of the Center for Mathematics and Science Education at Western Carolina University. Having dedicated her career to developing and empowering effective teachers, she has worked with teachers of all disciplines and grade levels.
"I am thrilled to receive the Gatling Award. It causes me to reflect on all of the amazing colleagues I have been so fortunate to work with over the course of my career. I am also deeply grateful to Carolina Biological for their support of organizations like NCSLA and for their investment in K-12 education," she said.
Dr. Franklin, who earned a Ph.D. in education with a minor in anthropology from UNC-Chapel Hill, has served as principal investigator, co-principal investigator, or collaborator on a number of federal and state grants, and is a former president of the NC Science Leadership Association. She led the development of the Journal for Interdisciplinary Teacher Leadership, which publishes original work on research, best practices, professional learning, and leadership in K-12 education.
"Elaine understands the critical importance of teachers as the foundation upon which high quality teaching is enabled and empowered," said Raj Narayan, Associate Director of the Kenan Institute for Engineering, Technology & Science. The Kenan Fellows Program is a K-12 STEM education initiative of the Kenan Institute at NC State University. "She has demonstrated strong adaptive leadership and integrity in building collaborations with business, university, government and nonprofit partners across our State consistent with the spirit of the Gatling Award."