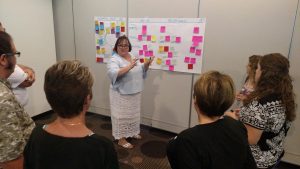 Earlier this summer, a group of more than 25 educators from the Kenan Fellows Program for Teacher Leadership Alumni Network attended a one-day Design Thinking Workshop organized by IBM.
Design Thinking enables learners of all ages to approach solving challenges based on user experiences with a focus on turning ideas into outcomes. The teachers were introduced to the Design Thinking framework and provided with kits to reference as they incorporate the
framework into their classrooms.
Here is what a few of them had to say about the workshop and how they plan to use it.
Mark Townley, an environmental teacher at Holly Springs High School, said he is using the Design Thinking method for a project-based learning concept in which groups of three students will propose solutions on how to make a major U.S. city more sustainable. Each student will play a role of either a city planner, energy and transportation expert, or air and water quality expert. They will follow the Design Thinking process to find pain points, vote, and create solutions.
"The biggest and most immediate takeaway for my class was the concept of empathy. Giving my students roles to fill that allowed them to be 'in the shoes' of the focus group has really helped my students to understand the global issues we are learning about," said Townley. "This workshop is career changing! It has provided me with the ability to more effectively manage groups of students in a way that is significantly more personal and relevant to that child."
David Sander, an IBM Kenan Fellow who teaches at Wake Forest High School, said the workshop offered a great professional development opportunity to learn the concepts of design thinking from other perspectives and professionals at IBM.
"Though I use design thinking with my students in our activities and projects, we mainly look at it through the lens of an engineer trying to solve a problem," Sander said. "In this workshop, we were able to see that there is a much bigger picture to design thinking, primarily in seeing the overall problem through the lenses of each stakeholder."
Shane Westhafer, an IBM Kenan Fellow who teaches Career an Technology Education at Panther Creek High School, said he would recommend the workshop to fellow educators and already incorporating some of the concepts with his students.
"If they offered a full/more complete version I would take it again," Westhafer said. "I was surprised by the huge focus on empathy toward the end user. We often talk about it in the classroom, but never to the extent that it is used at IBM. We've actually reworked a couple of the (classroom) projects in one of our courses to have a strong focus on empathy toward the end user."