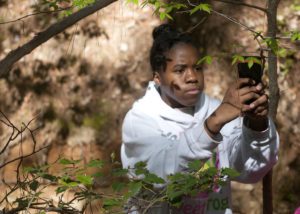 WAKE FOREST, N.C. ― Inspired by their Students Discover: eMammal project, Kenan Fellows Program alumni Rachael Polmanteer and Lena Deskins built on their citizen science experience by organizing a statewide schoolyard NC BioBlitz on Friday, April 20, 2018.
The event, which focuses on discovering, identifying and documenting as many living species as possible in a specific area over a certain amount of time, gave hundreds of students the chance to explore the biodiversity of North Carolina's K-12 campuses. Polmanteer learned about BioBlitz events when she presented at and attended the Citizen Science Association conference in Minnesota last year.
She said it is difficult to determine how many students and schools participated in NC BioBlitz across the state. At Wake Forest Middle School, where she teaches eighth-grade science, more than 400 students took part in the one-day event. Armed with smartphones, the students scoured the woods behind the football field searching for wildlife, plants and any evidence of life including turtle shells, animal tracks and more. They used special macro lenses, purchased through a Bright Ideas grant Polmanteer received, to take pictures of whatever they could find. They noted the location of their findings, shared their observations and uploaded their discoveries to the iNaturalist app.
"So far, there were 329 observations made with 69 different species. The number of species can change as naturalists and scientists ID them," Polmanteer said. "If enough naturalists and scientists agree on the species, it becomes known as research grade, which means that data point can be used in any on-going research. It can help to identify the range in which organisms live or their seasonality, and much more."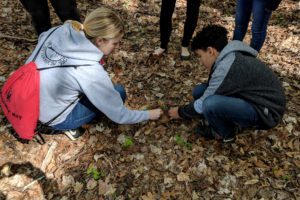 Polmanteer and Deskins met in 2016 as Kenan Fellows working together to create instructional resources for Students Discover: eMammal. They see NC BioBlitz as an extension of their work through eMammal in which students survey and analyze the mammal biodiversity in and around schoolyards using cameras. At first, Polmanteer planned only to conduct BioBlitz just at her school. But Deskins, who is an academically and intellectually gifted teacher at Sandy Ridge Visual and Performing Arts Elementary School in Durham, encouraged Polmanteer to reach out to teachers across the state. Together they promoted NC BioBlitz to other educators while presenting at various conferences including the NC Science Teachers' Association Professional Development Institute in October 2017.
"The idea would never have happened if it wasn't for my Kenan fellowship," Polmanteer said. "The fellowship paired me with my mentor Dr. Stephanie Schuttler, a researcher at the NC Museum of Natural Sciences, who encouraged me to submit a poster to the Citizen Science Association conference. Attending the conference opened my eyes to the much boarder world of citizen science."
The benefits of students participating in a BioBlitz event are many. "They get to collaborate with scientists and naturalists, as well as their peers from across the state. They have access to all the data that students across the state have provided. Students of all abilities can participate. For example, students from the autistic classroom collaborated with my class, and explored the rich biodiversity outside," Polmanteer said. "Students get to do real science that is aligned with their curriculum. Finally, it gives students the opportunity to connect with and explore the environment."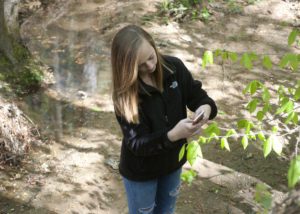 The feedback from her students has been fantastic, she said. "I had students come back on Monday to show me additional photos that they had taken over the weekend. Many of them were considered to be research grade which motivated the students to keep exploring the environment around them," she said. "One student rescued a frog from a bowling alley and made sure to take a picture of it once she got it outside."
Here are what several students had to say about the experience:
"I fell in a hole and the turtle shell was there, so it was totally worth it."
"This was so much fun! I wish we could stay out here all day."
"I saw a snake and ran, but don't worry I kept exploring after that and got some more observations."
To learn more about NC BioBlitz, visit www.tinyurl.com/NCBlitz.