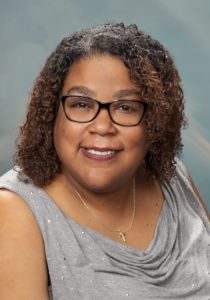 Sanford, N.C. (May 17, 2018) – Daria Fedrick, a career technology teacher at Bragg Street Academy, has been named a 2018-19 Kenan Fellow. Her fellowship was made possible through a partnership between Central Electric Membership Corporation, North Carolina's Electric Cooperatives and the Kenan Fellows Program for Teacher Leadership at N.C. State University.
Fedrick, who has been teaching for eight years, is among 25 teachers from across North Carolina who have been selected to participate in the 2018-19 fellowship year. Beginning in June, she will work alongside mentors and industry experts at Central Electric learning how power is generated and delivered, exploring the history of the electric cooperative model and seeing how Central Electric is innovating its services and enhancing systems to continue to meet, and exceed, the expectations of its members.
"Central Electric is honored to partner with such a prestigious institute as the Kenan Fellows and we are very excited to host Daria with us this summer as a part of the program," said Morris McClelion, Central Electric General Manager, and CEO. "The cooperative has a strong commitment to our local communities and our partnership with the Kenan Fellows Program allows us to continue investing in the development of our local teachers and students."
Fedrick will transfer this knowledge to her students by creating lessons that will help them understand how electricity is produced and delivered to cooperative members. Her lessons will also increase their awareness of various career pathways in the energy field and at the cooperative.
"Support from industry leaders such as Central Electric and North Carolina's Electric Cooperatives allow us to empower more teachers to ignite students' passion for STEM in more locations across the state," said Dr. Elaine Franklin, director of the Kenan Fellows Program. "Their support also allows us to provide educators with knowledge of local career opportunities available to students and strengthens collaboration with industry. This is especially important in rural communities."
As part of the award, Kenan Fellows receive a $5,000 stipend and participate in 80 hours of professional development focused on project-based learning, digital learning, and leadership development. Educators who complete the year-long program remain in the classroom while growing professionally as part of a statewide network of teacher leaders. Today, an elite network of more than 420 Kenan Fellows are working to improve Science, Technology, Engineering and Math (STEM) education in North Carolina and beyond.
About Central Electric Membership Corporation: Central Electric, a Touchstone Energy Cooperative based in Sanford, NC, is a not-for-profit electric utility serving over 22,000 members in Chatham, Harnett, Lee, Moore and Randolph counties. Visit CEMCPower.com to learn more.