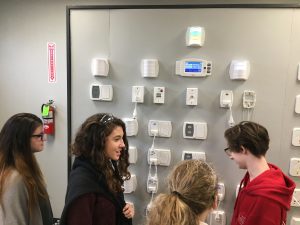 Franklin—A group of 25 eighth-grade students from The Catamount School toured TekTone on Jan. 29 to learn about local career pathways.
The field trip led by 2019-20 Kenan Fellow Amanda Clapp kicked off a Project-Based Learning unit that explores local STEM careers and how students can prepare for them. Clapp is designing the unit as part of her fellowship project, which was made possible by a grant from the Appalachian Regional Commission. She is one of six Western North Carolina STEMwork fellows who are developing lesson plans to make better connections between workforce skills and classroom content in area schools.
"We're honored that Amanda chose to bring students back to TekTone's campus as we understand the value of connecting with students early as they decide their career paths.  Our staff thoroughly enjoyed showing off what we do and discussing opportunities here in Western NC," said John Mira-Knippel, President of TekTone.
For three weeks this summer, Clapp interned at TekTone, a family-owned business that develops, produces and sells nurse and emergency call systems for use in a variety of healthcare facilities around the globe. At TekTone she learned about the engineering design process, prototyping, production, sales and marketing of electronic products as well as the types of work-based skills that students would need to develop in order to succeed.
"We would never have gone to TekTone if I hadn't interned there. I didn't know they existed prior to my internship," Clapp said. "They are a great company. They hire mostly local people and they have lots of high school and college interns, so my students now know a professional support network if they pursue tech careers."
The students spent three hours at TekTone visiting different departments and speaking with different department heads about the types of jobs available in those areas. Among the departments toured were materials and purchasing, sales and marketing, human resources, production, and engineering.
"The students had no idea that there were so many different kinds of jobs in manufacturing, and that they paid so well," Clapp said. "The people were so gracious at TekTone. They were thoroughly happy to share the company they're proud of. The students appreciated being treated like VIPs and learning about new job options for when they grow up."